Transforming Cell Biology Research
I would like to draw your attention to the new, recently released HoloMonitor M4 product sheet and expand on the discussion. During the autumn we have together with our manufacturer, Optronic, upgraded the M4 to
increase production efficiency,
reduce production cost and
to simplify customer installation.
A key feature of the upgrade is the new, in-house developed laser module. This low-cost proprietary laser module is more robust as it is built using high volume semi-conductor components. It replaces a laser module purchased from a single-source, third-party supplier.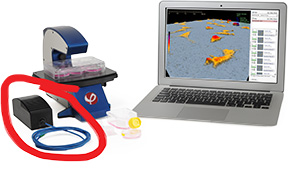 This advancement reinforces the HoloMonitor development strategy to optimize production cost by integrating cost-efficient components while improving the overall quality, in support of our founding vision:
"Bringing the benefits of digitization to cell biology research by creating sophisticated cytometric microscopes, based on technology that is commonly found in mobile phones"
Innovation feeds innovation. Most of PHI's engineering staff, including myself, spent the greater part of the last decade developing mobile phones for Sony and Ericsson. When introduced to challenges of cell biology research by scientists at Lund University, it became obvious to us that the utilization of consumer electronics would fundamentally transform and progress cell biology research.
Links