Label-free Live Cell Imaging and Cell Analysis
The HoloMonitor technology makes cells visible without labels or stains. Together with the guided App Suite software a range of cell biological parameters can be explored with minimal user effort.
Guided end-point assays – quick assessment of cell count and cell culture quality.
Guided kinetic assays – publication-ready kinetic results with minimal effort.
In-depth analysis – single cell tracking for analysis of individual cell and/or cell populations.
Scroll down for an application overview with links to dedicated applications pages.
Live Cell Imaging has never been Easier!
Guided End-point Assays
Ensure assay repeatability and optimal cell quality by checking up on your cells before setting up a time-lapse assay.
Guided Kinetic Assays
These assays are tailor-made to provide relevant kinetic data. Just follow the step-by-step instructions given by the software and your results will be automatically presented.
In-depth Analysis
The single cell tracking funtionality enables in-depth analysis of both individual cells, and entire cell populations, at the same time.
Other Cellular Events
Study drug responses and the cell death process
Examples how HoloMoniotor has been used to image and visualize previously unseen cellular events are provided here. Explore our list of publications describing how Holomonitor can be used in various cell-based research settings.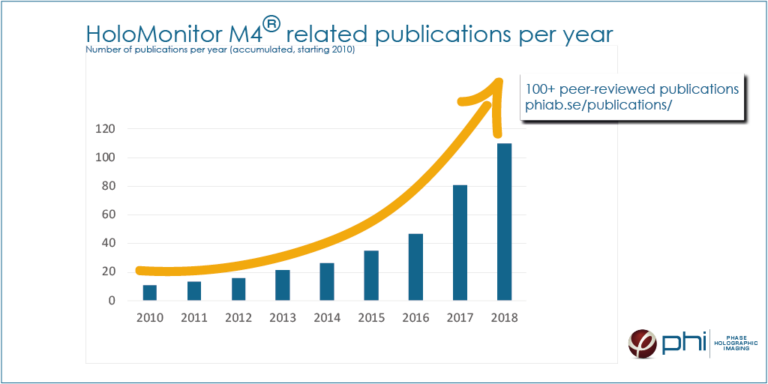 Please don't hesitate to contact us for more information!