Live Cell Imaging Assays
inside your incubator
The label-free HoloMonitor® Live Cell Imaging Assays enable long-term label-free visualization and analysis of single-cells on a population level — in an incubator environment, hypoxia chamber or directly on the lab bench.
Focus on Your Cells
HoloMonitor allows you to focus on your cells. Without requiring any reagents or labeling, the HoloMonitor Live Cell Assays let you image and monitor the dynamics of living cells directly in your incubator over long time periods. All cell types can be monitored, cell lines as well as delicate cell types, such as induced pluripotent stem cells or primary human cell cultures.
Live Cell Imaging Made Easy
Carefully designed by cell biologists, the label-free live cell assays intuitively guide the user through a simple step-by-step workflow, from experiment setup through data analysis.
Each application allows you to easily create colorful live cell videos, images and graphs for peer-reviewed publications. Naturally, all data can be exported to Excel for further analysis.
One Sample, Multiple Assay Results
As the cell images are recorded without any reagents or labels, recorded time-lapse images can at any time be reanalyzed using additional HoloMonitor assays to provide multiple measurements from the same cell culture — saving time, money and not least precious cells.
Moreover, imaged cells are available for further downstream studies, as imaging with HoloMonitor is label-free and harmless to your cells.
The Live Cell Assay Collection
Single-cell Analysis on a Population Level
The single-cell analysis and tracking functionality enables in-depth analysis of both individual cells and entire cell populations at the same time.
Study single-cell motility and migration patterns and distinguish between cell sub-population behavior.
Examine more than 30 parameters, as cell morphology can be sensitive markers for cell damage.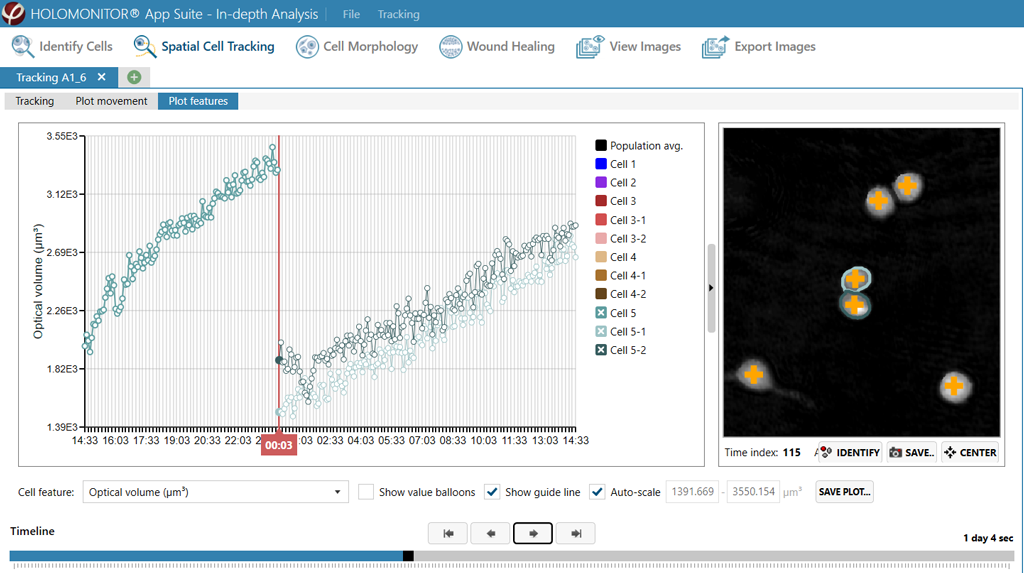 Tracking of cell volume through cell division
Guided Kinetic Assays
Tailored live cell assays that automatically analyze images of your cells and provide kinetic data on your cell populations behavior in real-time.
Recognize drug toxicity patterns and kinetics of drug effects from interactive dose response curves.
Explore average cell population motility based on cell speed and accumulated distance in real–time.
Robust kinetic cell proliferation assessment by direct identification and counting of individual cells.
Easily obtain kinetic information on how cell populations close the wound gap and determine cell front velocity.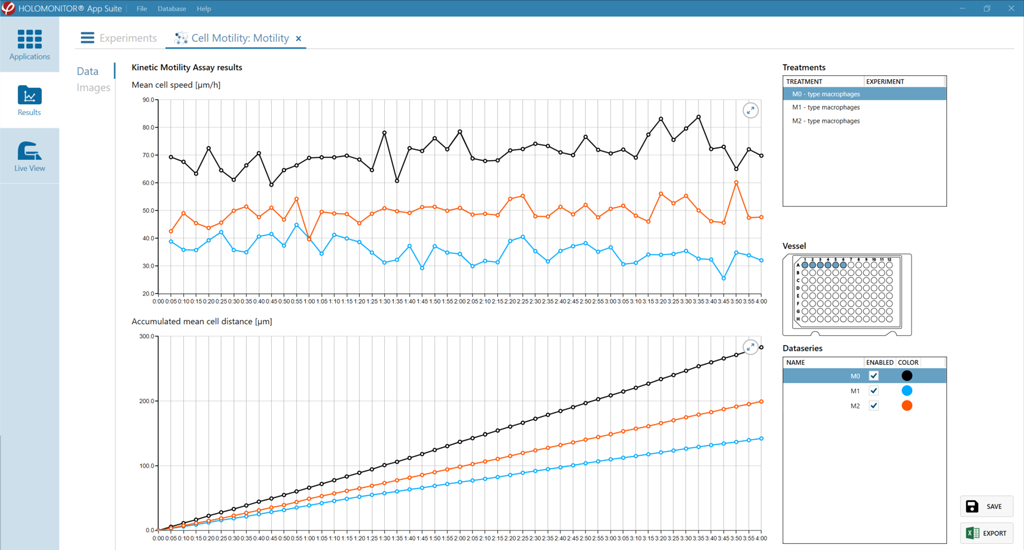 Cell motility result screen
Guided End-point Assays
Live cell assays that ensure experiment reproducibility and optimal cell quality by checking up on your cells before setting up a time-lapse experiment.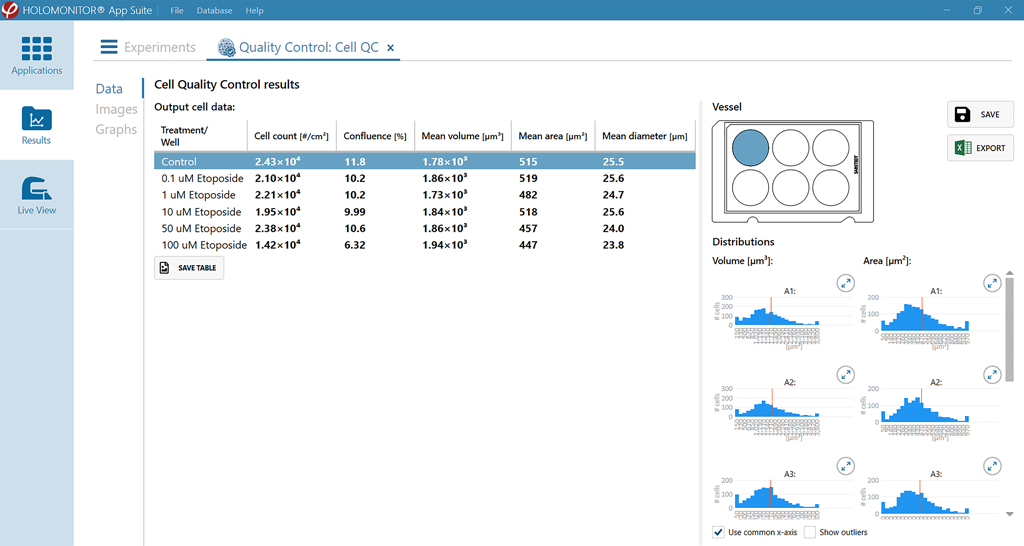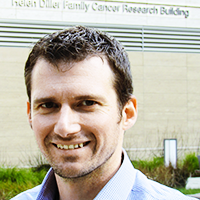 Dr Robert Judson-Torres
University of Utah