Kinetic Dose Response Assay
From a single label-free experiment the HoloMonitor® Kinetic Dose Response Assay automatically provides in vitro dose response curves at any point in time.
Dose-response relationship
Understanding the dose response relationship of drugs over time is essential when developing effective treatment strategies in cancer research or pharmacology, making the dose response curve of adherent cells a vital tool in drug screening and pre-clinical research.
Dose-response & drug efficiency
The dose response relationship allows drug efficiency and potency to be determined in vitro and provide guidance for future studies. Additionally, knowledge of drug effects on cell population morphology, facilitates advances in drug development and future disease treatments.
Do you want to know more about Kinetic Dose Response?
Contact us to find out how you simplify your daily lab work.
Easier than ever before – Guided set-up and automatic result presentation
The HoloMonitor Kinetic Dose Response Assay is designed for automated and detailed analysis of drug responses in adherent cells. Using the HoloMonitor App Suite software, cells are automatically identified and counted.
Results are displayed as an interactive response curve, where results for each condition can be displayed for any selected time point.
In addition, you will receive cell count, confluence and mean cell volume over time, including statistics for each treatment.
Kinetic dose response curve
Dose response curves are interactive and displayed for the time point selected using the time bar,  here after 48 hours.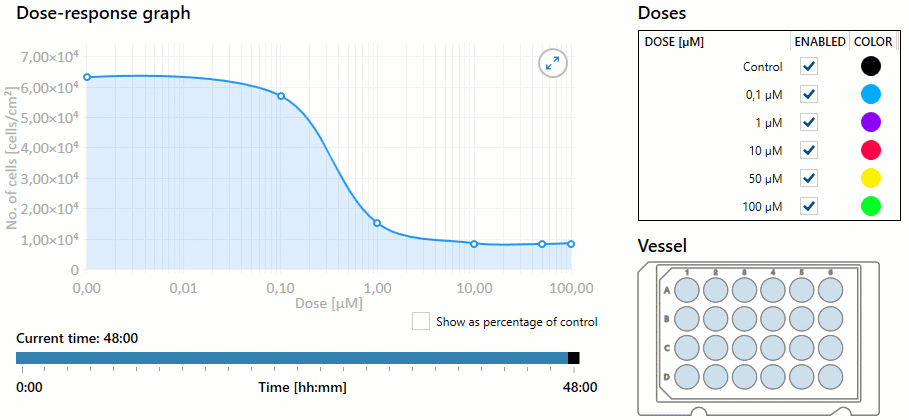 Interactive dose response curve created by the HoloMonitor App Suite Kinetic Dose Response Assay.
Kinetic cell count, confluence and mean cell volume
In addition to the dose response relationship, associated changes in basic morphology are given. All data is easily exported to Excel for further analysis.

Screenshot of the HoloMonitor App Suite Kinetic Dose Response Assay showing cell count, confluence and mean cell volume over time.
Using HoloMonitor for detailed dose response analysis
The HoloMonitor® Dose Response Assay provides detailed analysis on drug effects and toxicity at selected time points:
Kinetics of drug effects and toxicity patterns
Interactive and automatic result presentation
Various outcome parameters
Easily compare effects from various compounds and concentrations vs untreated controls
When preferred, further analyses can be undertaken for details on cell morphology changes, cell proliferation and cell death kinetics etc.
Dose Response References
Whole-Cell Multiparameter Assay for Ricin and Abrin Activity-Based Digital Holographic Microscopy

Toxins (2019)

Ricin and abrin are ribosome-inactivating proteins, which can be easily and cheaply extracted, thus they can become potential biothreat agents. In this study, E. Makdasi et al. have developed a ricin and abrin activity assay based on the digital holographic microscopy (HoloMonitor M4) evaluation of cells following intoxication. Effects of ricin and abrin intoxication on cell lines were characterized by a decrease in cell confluence, reduced cell division, and smaller cell counts compared to untreated cells. Additionally, changes in cell morphology, such as decrease in cell area, perimeter, irregularity, and effective-calculated volume, and an increase in optical thickness and roughness. Authors conclude that HoloMonitor M4 can be applied for early and sensitive detection of ricin and abrin, as well as other toxins and substances, effects in cellular features upon toxin-mediated cell death processes.

Read more

Label-free optical biosensor for real-time monitoring the cytotoxicity of xenobiotics: A proof of principle study on glyphosate

Journal of Hazardous Materials (2018)

In the present work, the herbicide product Roundup Classic, its formulant (POEA) and its active ingredient (glyphosate) were studied on a mammalian osteoblastic cell line (MC3T3-E1) model using the optical biosensor Epic BT. Cell viability was monitored by HoloMonitor M4 by analyzing three-dimensional morphological structures of the cells.

Read more

Digital Holographic Microscopy for Non-invasive Monitoring of Cell Cycle Arrest in L929 Cells

PLOS ONE (2014)

We show that average cell phase volume results from DHM readings are comparable to the flow cytometry findings. DHM thus provides a non-disruptive alternative to flow cytometry. The technique has the potential to develop into a fast and cost-efficient method for pre-clinical monitoring of cancer treatment efficacy.

Read more
Do you want to learn more?
Contact us for a non-binding email-conversation.