Label-free Live Cell Imaging
Ideal for Live Cell Analysis
Label-free Live Cell Imaging & Analysis
Are you looking for a tool that enables label-free and kinetic live cell imaging studies during physiologically optimal conditions? With HoloMonitor you can get images, quantitative data and study life and death of your cells directly in the incubator.
The technology, holographic microscopy, is cell-friendly, fast and easy-to-use. With help from HoloMonitor, images, videos, and quantitative data are easily captured. The HoloMonitor live cell imaging system offers you a powerful and unique portfolio of cell biological applications.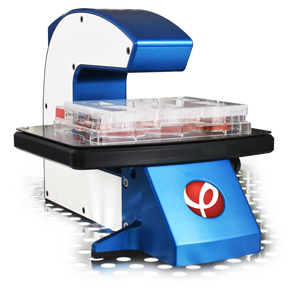 HoloMonitor® M4
– capture the full live cell story –
Holographic live cell imaging
Modern drug research is based on experi­ments performed on cultured cells. Living cells are translucent and therefore difficult to see in an ordinary light microscope without stains or labels. Many of the live cell imaging methods used to visualize cells are destructive. This means that life's smallest building block – the cell – is generally studied only when it is dead.
PHI's HoloMonitor time-lapse cytometers are designed to non-invasively explore the kinetics of cellular responses, rather than just providing snapshots the way traditional endpoint assays do. HoloMonitor is based on a novel label-free live cell imaging technology – holographic microscopy – that automatically images and analyzes living cells in ways not previously possible.
Today, HoloMonitor systems are in operation in Europe, North America, Asia and in Australia. Applications and benefits using HoloMonitor have been described in more than 100 peer-reviewed scientific publications.
PHI has been granted over 10 patents and has a portfolio of further applications in the pipeline. This new digital capability will fundamentally change light microscopy and thus humanity's ability to observe living cells.
About PHI
Phase Holographic Imaging AB (PHI) provides researchers in academia and the life science industry with live cell imaging and analysis products for label-free live cell kinetic studies. Since introducing the first HoloMonitor instrument in 2011, PHI offers a range of products for label-free, long-term quantitative analysis of living cell dynamics, circumventing the drawbacks of traditional methods requiring toxic stains. Headquartered in Lund, Sweden, PHI trades through a network of international distributors.
The HoloMonitor system is a versatile tool providing detailed information about the life cycle and behavior of living or dying cells to scientists all over the world. Focus areas include basic cell research as well as the development of more efficient treatment strategies for cancer and other diseases. Committed to promoting the science and practice of time-lapse cytometry, PHI is continuously developing new live cell imaging products and applications in close collaboration with scientific expertise.
Do you want to know more?
Contact us to find out how HoloMonitor can help you in your daily work.
Upcoming events
There are no upcoming events.