The HoloMonitor® App Suite cell imaging software facilitates kinetic live-cell tracking and analysis of your cells right from your incubator. In addition to detailed single-cell and cell population data, App Suite provides you with visual data in the form of high-quality images and time-lapse videos of your in vitro cell cultures. Moreover, you can easily re-analyze the imaging results of previous experiments. With the HoloMonitor live cell assays, you can extract multiple results anytime from your samples. And, of course, this cell imaging software allows for convenient data analysis from outside the lab.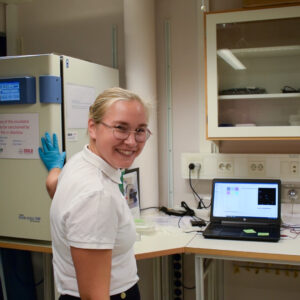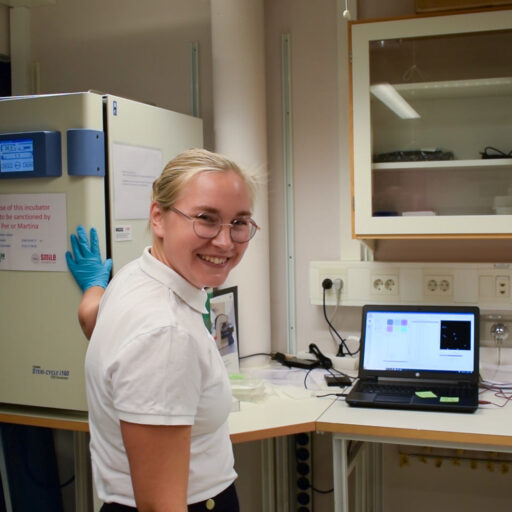 Cell Imaging Software
— for and by cell biologists
Cell imaging software can be overly complex and demanding to work with. The App Suite software has been developed with this in mind. The result is a modular easy-to-use software tool, tailored for cell biologists working in the lab or doing later data analysis away from the lab.
Get High-quality Visual Data
Meet the App Suite software
Watch this short video to find out how the HoloMontior App Suite cell imaging and tracking software can help you in your cell lab.
Cell Population Data on Single-cell Level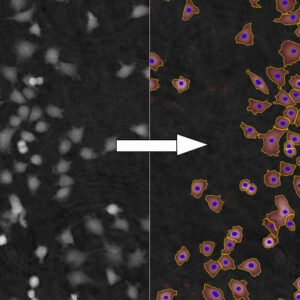 Ideally, cell population data such as cell morphology, movement and growth rate should be obtained label-free. However, imaging systems based on regular bright-field microscopy struggle to measure these basic but important qualities.
This is because older imaging methods create images to be viewed by humans. In contrast, HoloMonitor — using cutting-edge digital holography technology — creates images to primarily be processed by computers. This essential difference allows the App Suite imaging software to non-invasively and automatically assess important cell population characteristics on a single-cell level.
Examples from the Cell Analysis Software: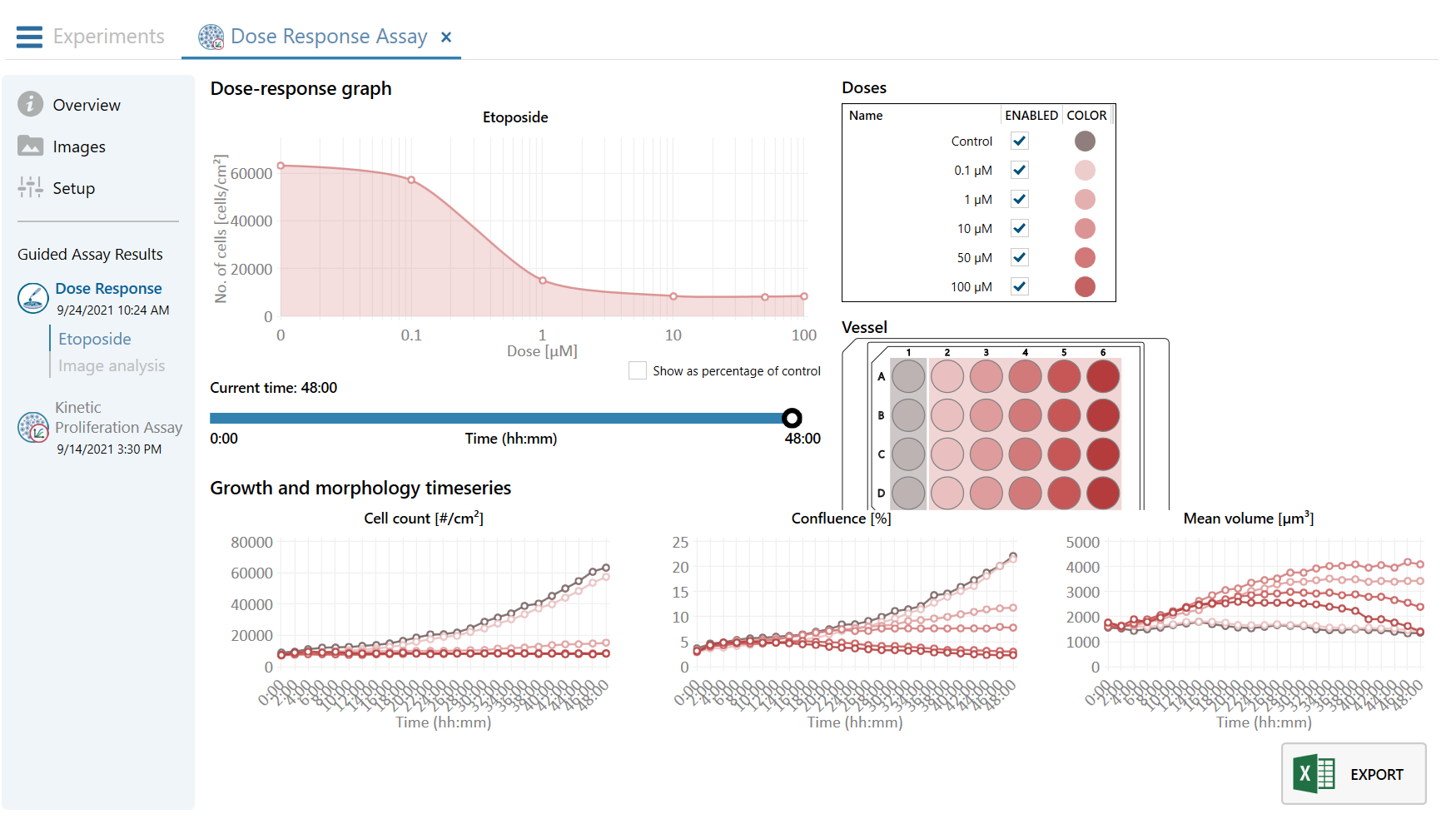 A Simple 5-step Workflow
The App Suite software features a simple 5-step user interface:
| | | |
| --- | --- | --- |
| 1. | Select Application | Choose your cell imaging assay |
| 2. | Sample Setup | Set your experimental conditions |
| 3. | Imaging Setup | Set your experiment duration and frequency of imaging |
| 4. | Capture Images | Start your automatic time-lapse imaging |
| 5. | Real-time Results | View your data evolve during the experiment |
| 6. | Additional Options | Export cell videos and single-cell data to Excel for further analysis or reanalyze your results with other HoloMonitor live cell assays |
App Suite in 1 Minute

One Sample — Multiple Assay Results
You can at any time reanalyze the recorded time-lapse images using any one of the HoloMonitor live cell assays. In that way, you can obtain multiple results from the same cell sample and experiment — saving you time, money and not least your precious cells.
Moreover, the HoloMonitor assays do not affect the sample. As HoloMonitor neither requires reagents nor labels, the sample may be further analyzed using complementary instrumentation.
Download HoloMonitor App Suite Software
Here you can download the latest version of the HoloMonitor App Suite Software. It includes all available assays but requires a license key to become activated and functional. Contact us to get a license quote for the assays you need.
App Suite version: 3.5.2
Required OS: Windows 10 or Windows 11 (64-bit)
Download size: approx. 450 MB
Are you still using Hstudio?
Contact us today for information on upgrading to the latest version of App Suite, the current software for the HoloMonitor M4 system.
HoloMonitor App Suite Release Notes
Bug fixes
Laser Calibration: We fixed an issue that could cause the calibrated values to not be stored properly after re-starting App Suite. This bug was introduced in 3.5.1.
New functionality
In-Depth – Identify cells
We have decreased the minimum allowed value for Object size to enable segmenting of very small cells or large viruses.
Bug fixes
Experiment capture: We fixed an issue that could cause the software to crash or the experiment to stall while running an experiment. This bug was introduced in 3.5.0.
New functionality
In-Depth – Wound healing
The export has been upgraded to the xlsx-format including adding colors, styling and filters to all sheets.
Graphs showing 'Gap width (µm)' and 'Coverage area (%)' has been added both the Wound Healing app and the Excel export.
Analysis settings can now be applied to more than one frame at a time.
Default vessel pattern is changed to ibidi's vessel.
In-Depth – Cell Morphology
A major overhaul of the export has been made, including:

Upgrading the export to the xlsx-format including adding colors, styling and filters to all sheets.
Adding/removing/re-organizing data to make it more user-friendly.
In-Depth – Single Cell Tracking
Included/excluded status, color and cell family number of tracked cells is now saved with the analysis.
In-Depth – General
A slider to improve contrast in the images has been added to the Image view in Cell Morphology, Wound Healing and Identify Cells.
Live View
Perspective parameters are added to the Frame view in the Images tab.
Image analysis and Include/Exclude changes to any wells/position/frames now apply to all Controls that share the same well(s).
Image Viewer
We have added controls to only include a subset of frames when exporting video and images.
General
We have tested and confirmed that App Suite 3.5 is Windows 11 compatible.
We have made a major overhaul of how treatment colors are shown in all exports.
We have added the possibility to move the stage to the stage removal position from App Suite.
Bug fixes
Motility export: Added a fix to avoid x-axes in the graphs sometimes being compressed.
In-Depth General: Fixed sorting of Groups, e.g. to make 2 come before 10 etc.
Image Capturing: Fixed an issue that happened for some high-end computers that uses a dedicated graphics
card, where the captured frame had pixels with unnaturally high intensities along the top border.
Single cell tracking: Cell family tree graph did not display correctly for computers setup to use a 12-hour time
setting. This is now fixed.
Single cell tracking: Fixed an error during export which made the export fail when more than 400 cell families
was exported.
Experiment summary: Fixed an issue that made the experiment storage size sometimes show a too large value.
New functionality
Single Cell Tracking
A completely new version of the assay with improved functionality and performance.
Image Viewers
Zoom in/out/reset and color tool are now always visible.
Capture Setup / Live View
Minor layout update including making focus slider handle larger.
Changed description of Reposition button.
In-Depth – Identify cells
GUI update to match the identify functionality in the new Single Cell Tracking tool.
Cell QC / Cell Counter
Moved vessel map to under table in Cell QC.
Added explanation to histograms in Cell QC and Cell Counter how they are calculated.
Flipped columns in Cell QC and Cell Counter export to make it consistent with the software.
Cell QC and Cell Counter data (table, vessel and histograms) are now colored according to treatment color.
Developer Mode
Extended the software focus range to 0-2600 (from 300-2300).
Guided assays: Edit experiment time & duration.
Exports
Changed colors to mean and std. dev. columns in Proliferation export.
Miscellaneous
Minor GUI update here and there.
Bug fixes
Miscellaneous
Fixed crash when saving color-sets.
New functionality
Option to copy the image analysis settings from an old result without being restricted to treatment or dose-response results.
Added a cleaning guide in the hardware menu.
Added a laser calibration wizard in the hardware menu.
Added a "Reposition" button to the positions list in capture setup, that moves the selected position to the current camera position.
New functionality
Option to copy image analysis settings from another result in the same experiment when creating a new one.
Bug fixes
Image analysis page: Fixed an issue where applied changes sometimes did not save correctly.
Computer Requirements
Operating system: Windows 10 or Windows 11, 64–bit
Processor: Intel Core i7 (8th Gen)
Memory: 16 GB RAM (min 8 GB)
Storage: 512 GB SSD (min 256 GB)
Display: Full HD (min 1920×1080)
Other: 2 built-in USB ports