HoloMonitor in an incubator of an incubator makes people SmiLe
November 9, 2020 | Blog | Lund
Our collaboration with SmiLe incubator in Lund, provides researchers in local life science companies with PHIs non-destructive live cell imaging & analysis tool – making for happy cells and smiley faces 🙂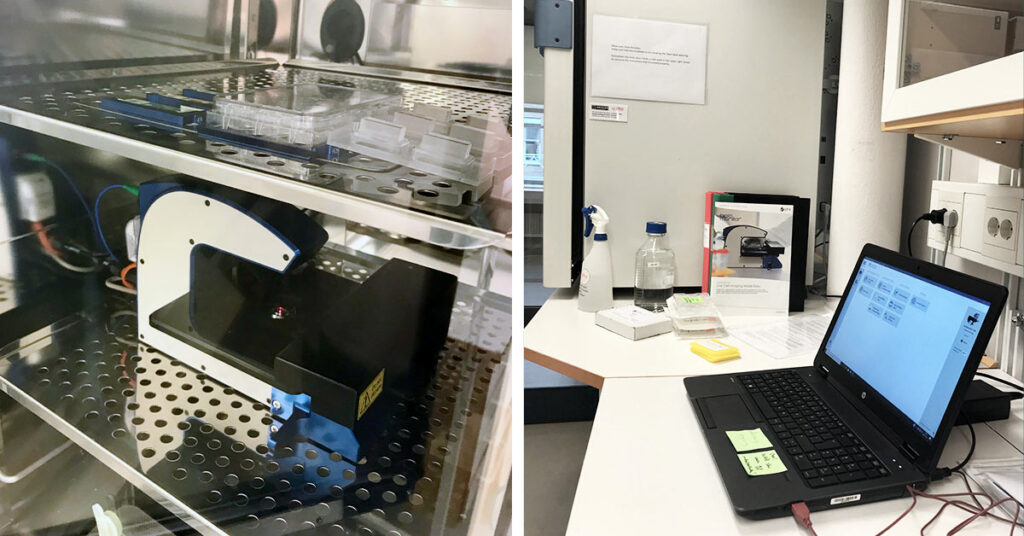 HoloMonitor® M4 within an incubator at SmiLe Incubator, Lund – wow it is incubator2!
We are excited to be part of the local collaborative effort of SmiLe and Medicon Village who strive to offer life science companies broader opportunities for access to the latest and most advanced equipment and research tools.
SmiLe alumni company Truly Labs AB was the first to set up experiments using HoloMonitor Live Cell Assays. Truly Labs AB is a preclinical CRO providing customized in vitro and in vivo services for their customers. Truly Labs focus is on Pharmacology and Translational Science, and they have extensive experience of working with small molecules and biologic. With a smile on her face while watching her cells move, Truly Labs Senior Scientist Susanne Larsson Faria, PhD, has been running wound healing assays to investigate stimuli effects on cell movement behavior in the context of fibrotic diseases.
We have asked Susanne...
...for her feedback on running HoloMonitor Wound Healing Assay:
A common readout of a wound healing assay is the change in cell-covered area (gap closure) over time. Here the HoloMonitor is a fantastic instrument providing you with information on cell movement over time. You can decide afterwards which timepoints were the best for different treatments and seeing the cells move in the videos you can produce is amazing!
...why wound healing assays?
Cell migration occurs during many important processes in our bodies e.g. embryonic development, tissue injury and wound healing. Cell migration may however be dysregulated in pathological conditions such as inflammation leading to tissue fibrosis. Wound healing-, scratch-and migration assays are common ways of studying cell migration under different conditions.
...her experience with the PHI team:
The support from Lisa and Laura from the PHI application team was fantastic, both hands on in setting up the first assay and as partners for discussing the analysis of the data.