New QPI Technology Article in BioPhotonics:
"Quantitative Phase Imaging Advances Regenerative Medicine"
BioPhotonics Issue July/August 2023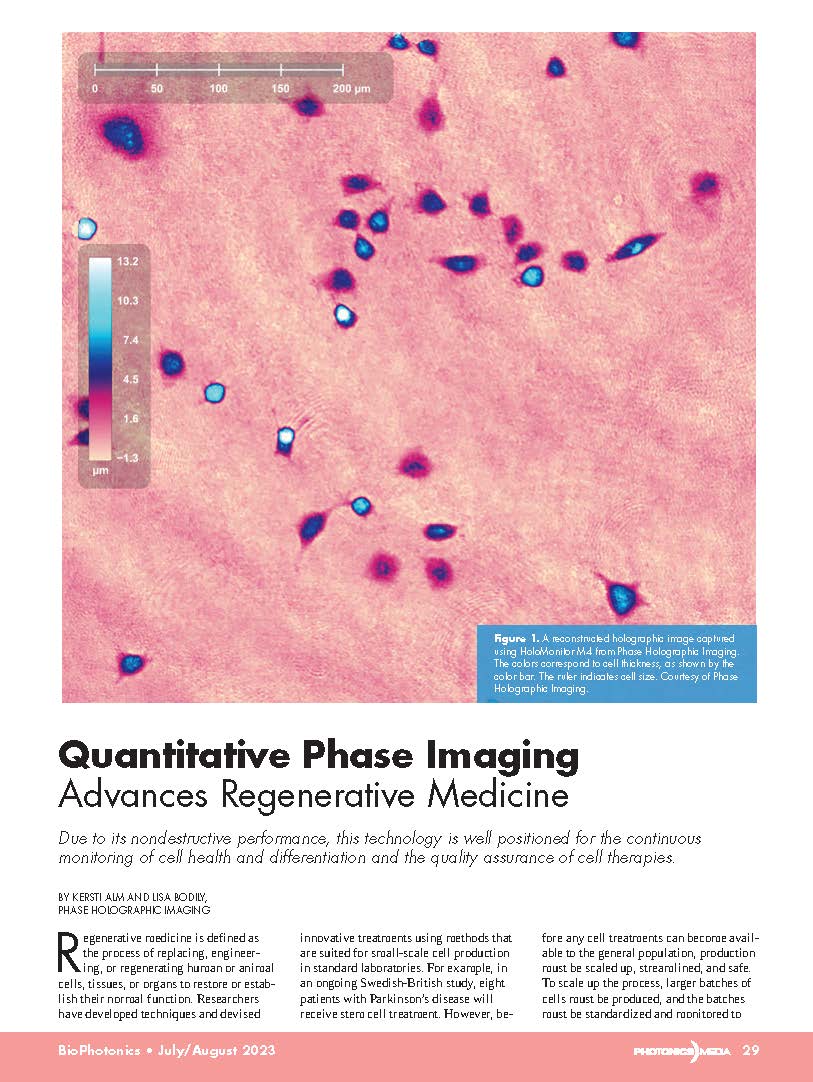 About the BioPhotonics article
— Quantitative Phase Imaging Advances Regenerative Medicine
Cell cultures are fundamental for biomedical research. Still, many traditional analysis methods cause great harm to cells or even require that they are sacrificed before any analysis is possible. Without a doubt, QPI has moved from an obscure to a modern, cell-friendly imaging method that has become indispensable for non-invasive live cell analysis. In fact, QPI causes no cell harm and allows for detailed cell analysis. In addition, it provides high-content quantitative data, informative cell images, and time-lapse videos. QPI has multiple applications — from cell growth, differentiation or wound healing assays to drug screening, spheroid formation, and chemotaxis assays.
QPI's future is tightly linked with the transition of regenerative medicine from research to manufacturing. We need accredited methods for cell monitoring and data gathering that will not affect living cells. But still providing reliable quantitative data for cell quality control.
About BioPhotonics
BioPhotonics magazine is a leading global resource dedicated to the biophotonics community, offering cutting-edge research, industry news, and product information. It especially focuses on light-based technologies and their applications in the life sciences. Moreover, BioPhotonics readers stay informed and connected with the latest advancements through their stand-alone print and digital magazine.
A warm thank you to everyone involved!