New HoloMonitor Application Article in German:
"Digitale holographische Mikroskopie für nicht invasive Lebenzellanalyse"
Springer Nature BIOSpektrum Vol. 29 Issue 04/23 | June 22, 2023
PHI's Chief Scientific Officer, Kersti Alm, and Head of Communication, Lisa Bodily, have recently contributed to the Cell Biology & Cell Imaging topic in the June 2023 issue of the German BIOSpektrum journal. Their application article sheds light on how HoloMonitor's technology is applied for non-invasive live cell analysis. Thank you to everyone involved — Vielen Dank!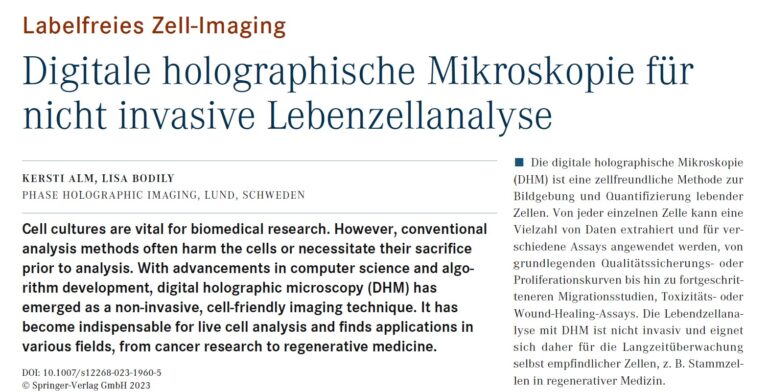 About the article
— Digital Holographic Microscopy for non-invasive Live Cell Analysis
Cell cultures are vital for biomedical research. However, conventional analysis methods often harm the cells or necessitate their sacrifice prior to analysis. With advancements in computer science and algorithm development, digital holographic microscopy (DHM) has emerged as a non-invasive, cell-friendly imaging technique. It has become indispensable for live cell analysis and finds applications in various fields, from cancer research to regenerative medicine.
About BIOSpektrum
Every two months, the BIOSpektrum gives readers an overview of new developments in the life sciences (with a focus on molecular biology, biochemistry, microbiology, genetics and developmental biology) and provides information on current affairs from business and politics.
For all German-speaking researchers: