Single Cell Tracking
The HoloMonitor® Single Cell Tracking assay provides easy-to-use software that facilitates long-term imaging and tracking of adherent cells, allowing label-free character­ization of hetero­­geneous cell behavior on a single cell level.
Why use
the HoloMonitor
Single Cell Tracking assay?
Automatic single cell tracking and result presentation
Our development team thrives by increasing user productivity. Therefore, the Single Cell Tracking Assay is optimized to boost your analysis efficiency. It automatically tracks all cells in the field of view when imaging your cell sample and after that presents your images and results in a clear and graphic way.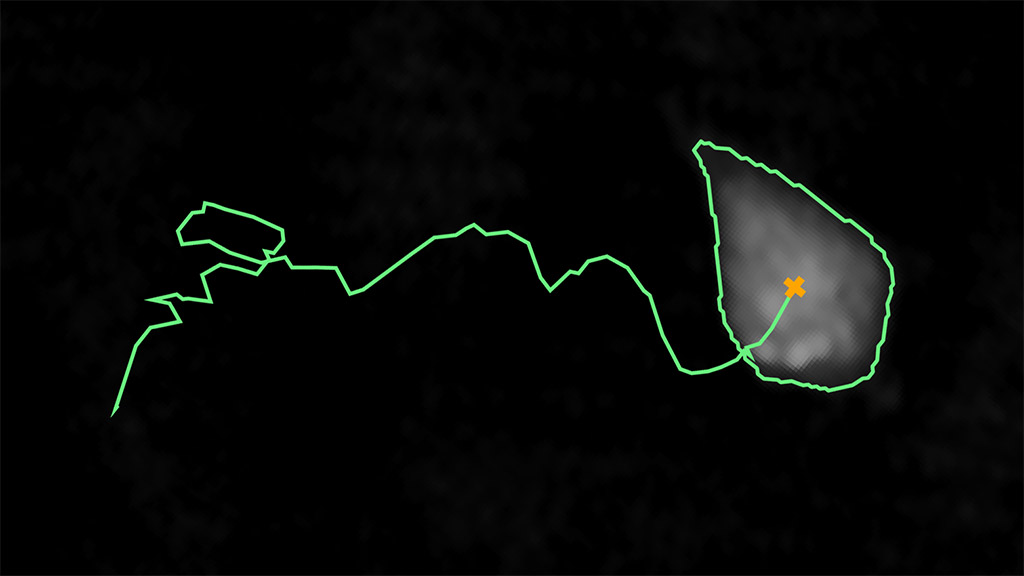 Increase your analysis efficiency with automatic single cell tracking
Like all HoloMonitor live cell assays, you set up your label-free Tracking Assay in the same easy and straightforward way in the software and get carried through the experiment with guided assays workflows. Firstly, this not only immensely reduces your hands-on lab time but secondly also increases the reproducibility of your assay. Consequently, allowing you to achieve more reliable and relevant results in your cell-based research.
Of course, all image data and results can be exported. So you can explore your cell cultures for even more answers.
Guided assay workflows reduce your hands-on lab time and increase reproducibility
Powerful algorithms immediately generate automatic tracking results
Export your data for further investigation
Label-free Single Cell Tracking
HoloMonitor's cell friendly nature makes it an ideal tool for tracking live cell cultures in real-time.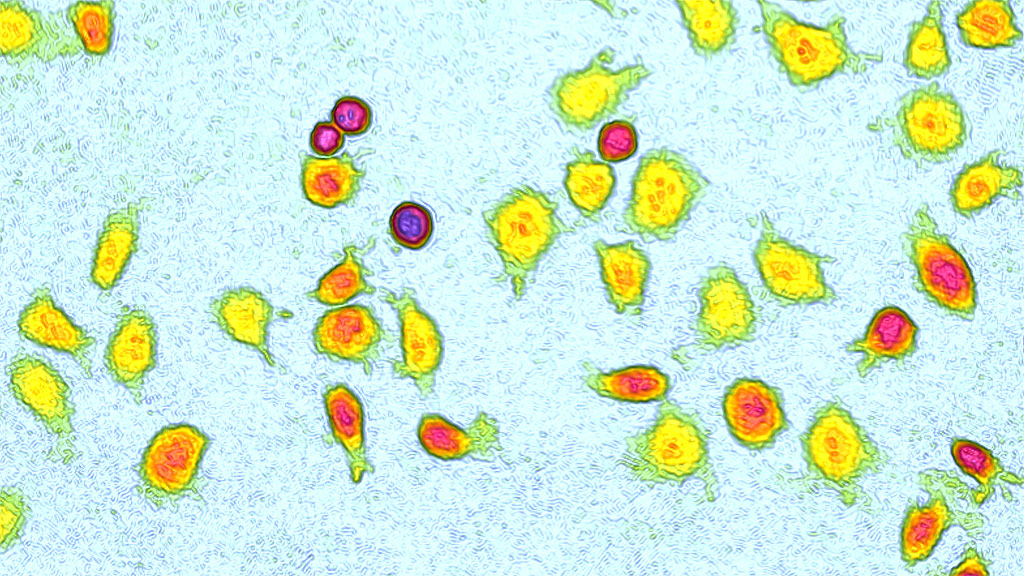 Study individual cells non-invasively
Like all HoloMonitor live cell assays, it lets you follow cells over time in a non-invasive way. In fact, no cytotoxic stains, markers, or cellular labels are needed. Label-free assays not only reduce the risk of unwanted toxicity. They also allow you to reuse your cell samples, as you do not have to add reagents to the sample. Hence, making it possible for you to save rare and precious cells, such as stem cells and primary cells.
You are able to follow everyday cell life right inside the incubator. By imaging inside an incubator, HoloMonitor creates a stable and relevant assay environment for your cells. This way, the HoloMontitor Single Cell Tracking assay is ideal for long-term studies of your live cell cultures.
No cytotoxic stains needed
Imaging right inside the incubator
Perfect for biologically relevant long-term studies
Get data on every single cell within a population
In a direct measurement using digital holographic microscopy, HoloMonitor automatically collects data from each individual cell. This way, you can detect and analyze subpopulations of cells.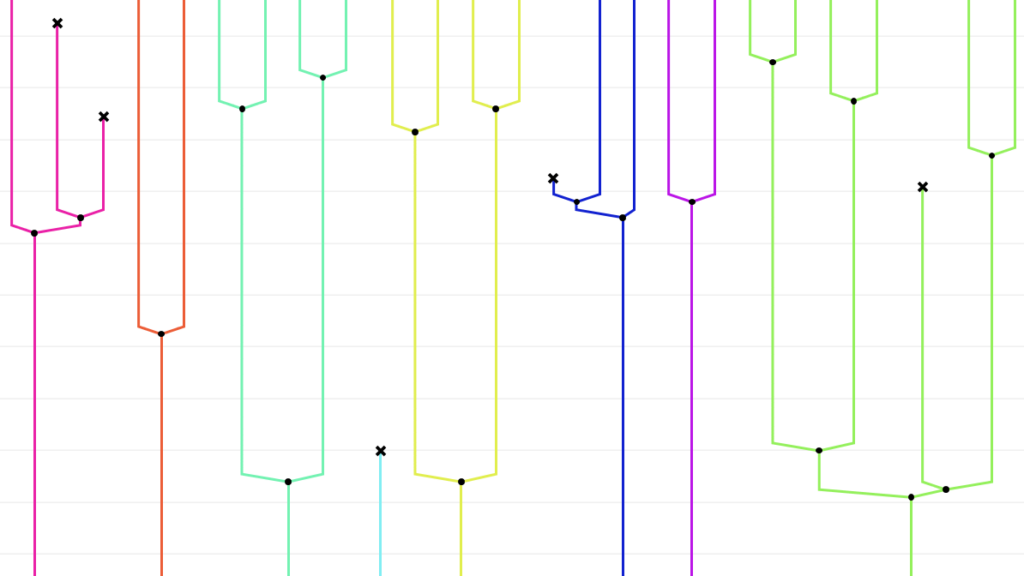 Explore both individual cell and cell population behavior over time
The holographic 3D images created by HoloMonitor allow you to study cell populations on a single-cell level, without the need for labels or stains. As a result, you are able to get insights into single cells and their entire family tree in a non-invasive way, while not compromising on quantitative data.
Tracking heterogeneous cell behavior
Mammalian cells can be highly dynamic in both morphology and behavior. Characterizing and tracking diverse cell behavior over time on a single-cell level is critically important when studying special or rare events. As an example, you can characterize cells becoming drug-resistant or going through a transition event, such as cell differentiation. Hence, by tracking every single cell within a population, you never miss a cellular event that you are interested in. Moreover, using HoloMonitor live cell assays, you study your cells in real-time, over long periods of time — basically, you have a 24/7 live-cell tv right inside your incubator.
Get insights into individual cells and their entire family trees
Follow everyday cell life, including cell division, cell differentiation, cell migration, and cell death
Never miss a cellular event with 24/7 continuous live cell imaging
Both movement and morphology data from one single sample
Running any HoloMonitor live cell assay will get you multiple insights into your cell culture—using only one cell sample.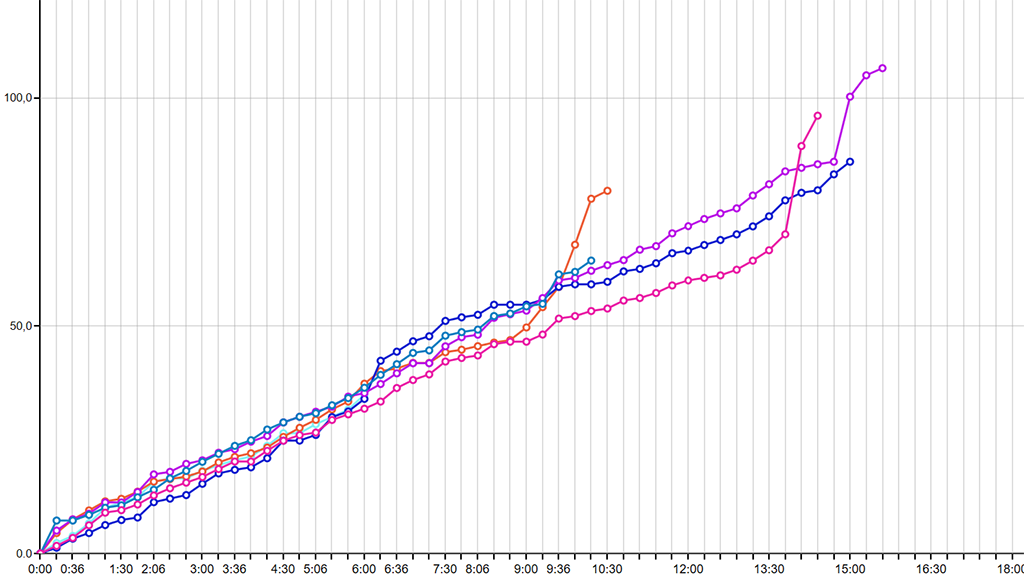 Monitor changes in cell movement and morphology at the same time
You can re-use imaging results from one experiment and easily analyze them in multiple other HoloMonitor assays — from home if you have to. This way, you are saving precious cells and time.
All our HoloMonitor live cell assays are developed together with cell biologists. Because we want to make sure that they won't waste your limited lab time and resources. Contrary to the traditional way of working, where you had to set up several different time- and cell-consuming assays for each assay result you wish to get.
The Single Cell Tracking Assay lets you tap into the immense potential resulting from multiple automatic assay results. Namely, making it possible for you to explore and combine cell morphology and cell movement data. You get to study over 30 cell morphology characteristics. Many of these are unique for digital holographic microscopy — the HoloMonitor imaging technology. In addition, the outstanding individual cell tracking of the system is loved by our users. In short, you get to follow in detailed movement plots single cells and cell populations in their migration and motility behavior.
More insights in one experiment setup
Study 30+ morphology features from your single cell tracking assay
Follow in advanced movement plots both single cells and their entire cell families
Modern software with guided workflow
Foremost, HoloMonitor live cell assays are cell-friendly. But they also focus on your needs and support you in your daily lab flows and cell culture work.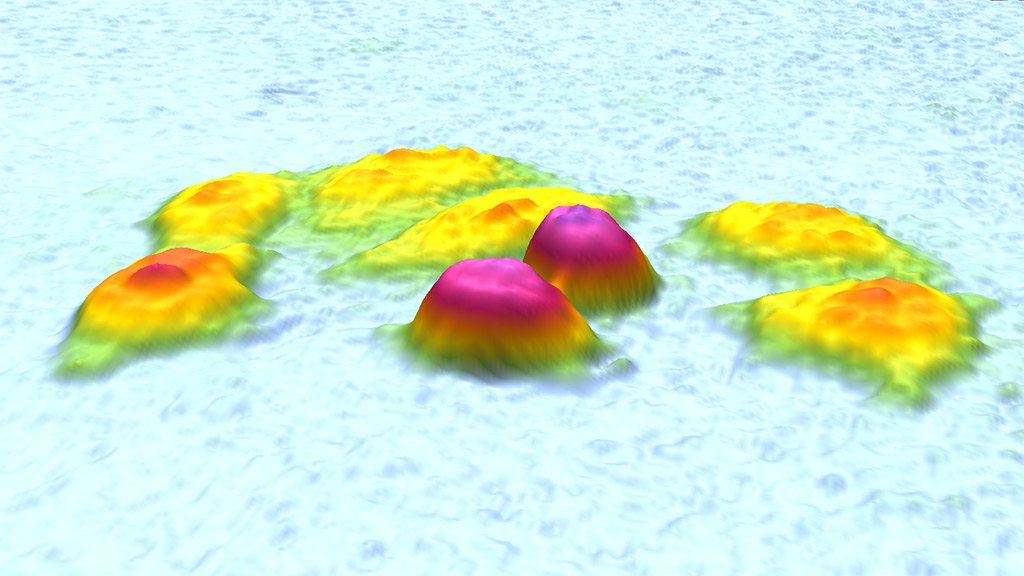 Save time with easy-to-use software
The Single Cell Tracking Assay is designed to meet the current demands of cell researchers. To help you to succeed in your research, we continuously develop our assays to adapt to your future needs.
At any time, you can swiftly re-analyze recorded time-lapse images with another HoloMonitor live cell assay. You can come back to your experiment data at a later point and even work on your data analysis from home outside the lab. In that way, you quickly obtain multiple results from the same cell sample and experiment setup—saving you time, money, and precious cells.
Combined insights of both morphology and movement behavior of cells are absolutely a powerful tool when studying complex biological questions such as EMT in cancer metastasis or stem cell differentiation kinetics. But it is not just kinetic morphology and movement data you can generate from the same original tracking data set. In fact, you can study many events in everyday cell life using the same tracking results. For example, you can explore cell proliferation, cytotoxicity, or drug responses.
Cell imaging and analysis software for biologists, by biologists
Get more results from multiple assays in the software and expand your insights
Study other cellular events using the same experiment results, such as cell proliferation, cytotoxicity, or drug response
Keep reading
to find out more about
the HoloMonitor Single Cell Tracking Assay
and why
this state-of-the-art software
excels compared to traditional cell tracking methods!
Easily export all your data to Excel for further analysis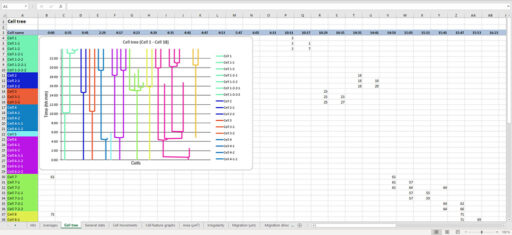 You can export all the data used for the HoloMonitor Single Cell Tracking analysis to an XLSX file. Hence, you can use Microsoft Excel to open and analyze the data further with your own methods.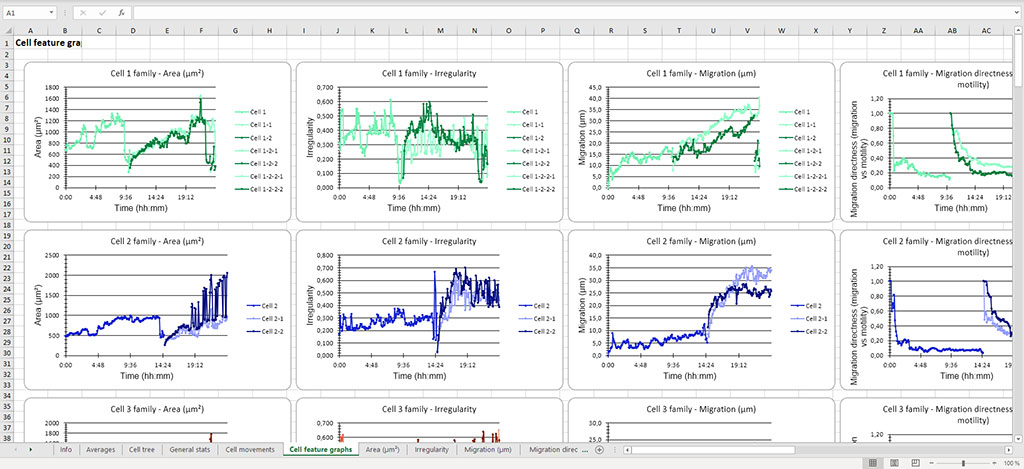 The export contains raw data for more than 30 morphological features, such as cell area, volume, thickness, migration and motility. This lets you extract data relevant for you and make your own analysis and results presentation, of for example cell cycle length.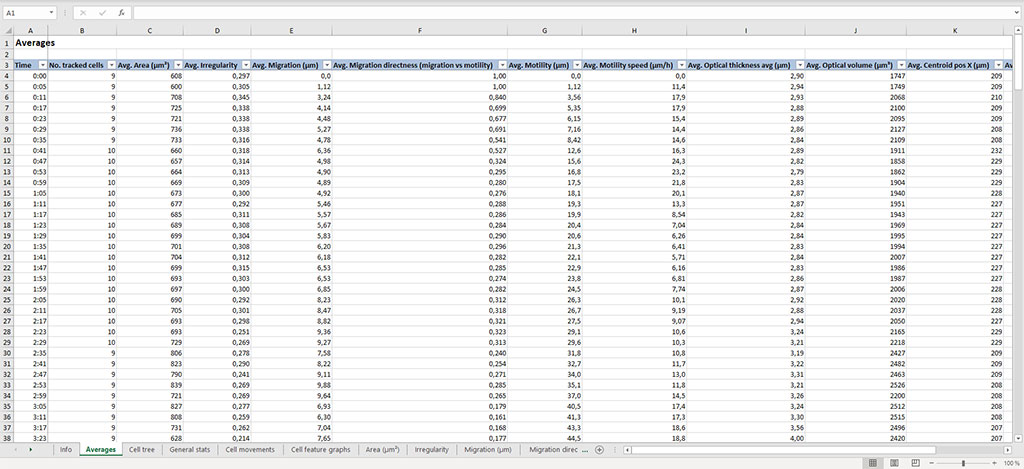 However, you also get pre-made graphs for each analyzed cell family showing all cell features, movement plots and cell trees. These give you a useful overview of your results and helps you pick out interesting cells to analyze further.
Single Cell Tracking FAQ
Are there any drawbacks with traditional cell tracking with labels?
Quantitative single cell imaging with high content analysis lets you do kinetic studies of adherent cells. However, correct cell state classification normally needs fluorescent labels. These labels are often toxic for the cells, which limits the time they can be tracked unperturbed. Furthermore, you have to apply fluorescent labels a priori to classify cell states of interest. This can be a challenge, as the expression of a single gene often is insufficient to predict the cell behavior or state.
How can HoloMonitor avoid the drawbacks with fluorescent labels?
The HoloMonitor system uses quanti­tative phase imaging to track the movement and morphology of adherent cells. It monitors and analyzes the cells over extended periods of time, with no need for labels or genetic modifications of any kind.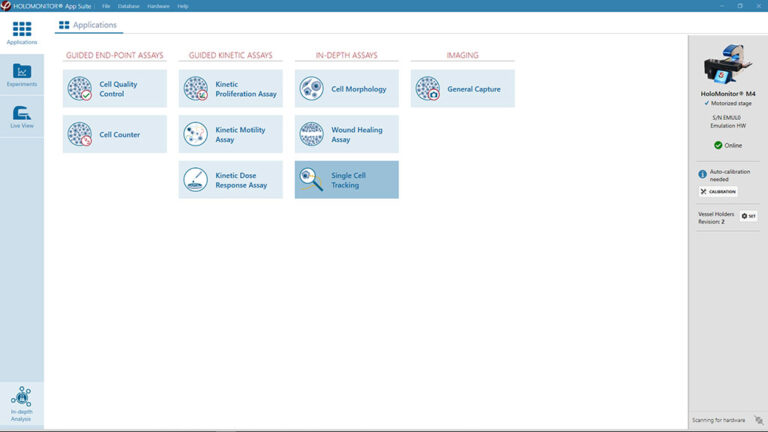 So what is the HoloMonitor Single Cell Tracking Assay?
The HoloMonitor Single Cell Tracking Assay is the most advanced and powerful feature of the HoloMonitor live cell imaging system. It lets you track and classify single cells in heterogeneous cell cultures, all label-free. You get motion and kinetic morphology data for each individual cell and mean values for all cells included in the analysis.
What is the difference between single cell motility and single cell migration?
Cell movement can be categorized into non-directional cell motility and directional cell migration. In short, cell motility is the random cell movement, which is present in almost every cell culture. On the other hand, cell migration is cell movement that is not random but rather caused by a cell attractant or repellent.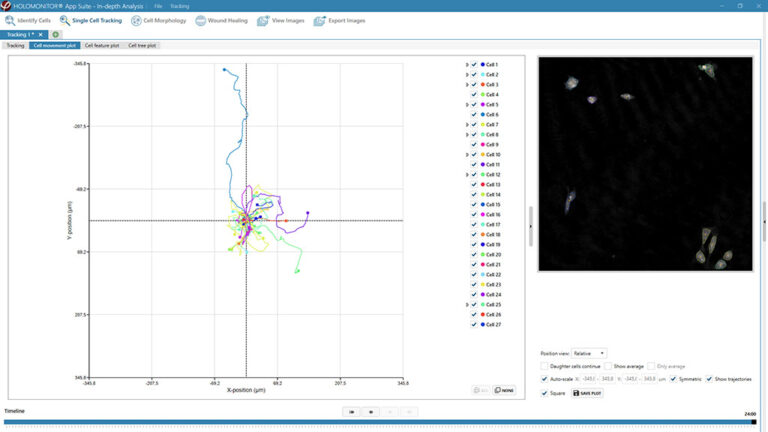 Does the HoloMonitor Single Cell Tracking Assay only measure motion data?
No! In addition to cell motion, HoloMonitor measures a wide range of morphological properties of the tracked cells. For instance, cell volume, cell area, cell thickness, cell irregularity, and cell roughness are all automatically measured throughout the experiment.
Am I limited to the HoloMonitor App Suite software to analyze my results?
Of course not! The HoloMonitor App Suite software lets you plot relevant features to monitor how they change over time and as your cells divide. However, you can also export all raw data along with pre-made graphs, movement plots and cell trees to Microsoft Excel. Here, you can analyze and present the results in the way you want.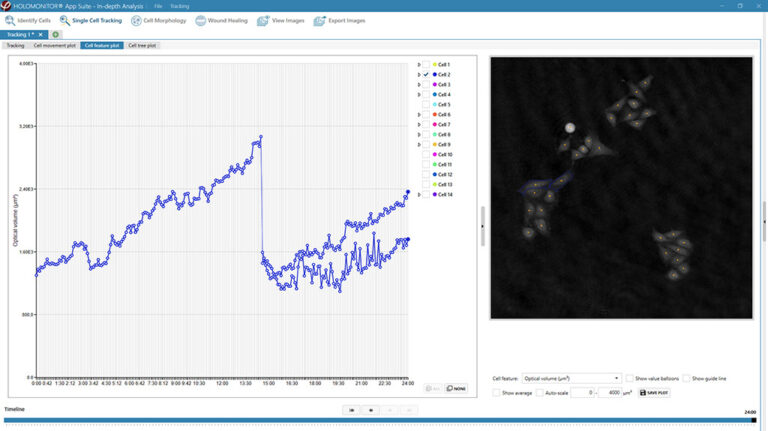 Single Cell Tracking Protocol
The walkaway Single Cell Tracking assay protocol is straightforward — sample preparation, experiment setup followed by automated image recording while the results are presented in real-time. The software leads you through 5 simple steps when setting up the experiment:
Assay selection
Basic setup
Image capture setup
Start capturing images
View the results in real-time

References
Gjörloff Wingren A. Moving into a New Dimension: Tracking Migrating Cells with Digital Holographic Cytometry in 3D. Cytometry Part A (2018)
Kamlund S, Strand D, Janicke B, Alm K, Oredsson S. Influence of salinomycin treatment on division and movement of individual cancer cells cultured in normoxia or hypoxia evaluated with time-lapse digital holographic microscopy. Cell Cycle (2017)
Hejna M, Jorapur A, Song JS, Judson RL. High accuracy label-free classification of single-cell kinetic states from holographic cytometry of human melanoma cells. Scientific Reports (2017)