The App Suite 3.5 software update: What's new? And 4 reasons to install it!
You request, we implement! Here at PHI, we are always happy to hear from you — the HoloMonitor® users — and receive feedback and suggestions to bring your experiences with HoloMonitor to the next level. Now, with the App Suite 3.5 software update, we provide you with a more powerful and user-friendly analysis tool for your day-to-day live cell imaging analysis.
What's new?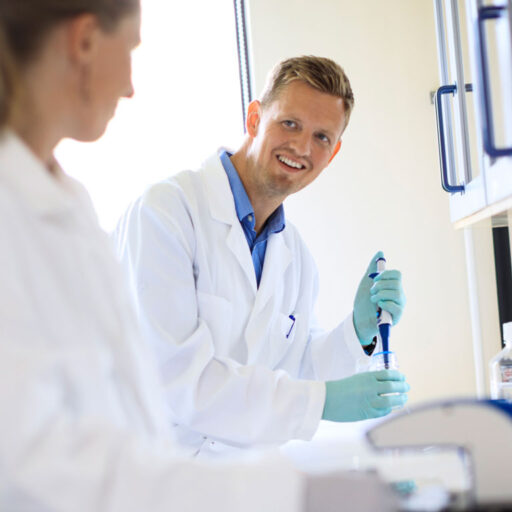 Enhanced in-depth analysis with easier data presentation
Added gap width and coverage graphs for wound healing analysis
More flexible image and video export options based on user feedback
Improved measurement tool in live view with the possibility for exportation
Confirmed compatibility with Windows 11 system
Why update to App Suite 3.5?
Dive even deeper with the in-depth wound healing analysis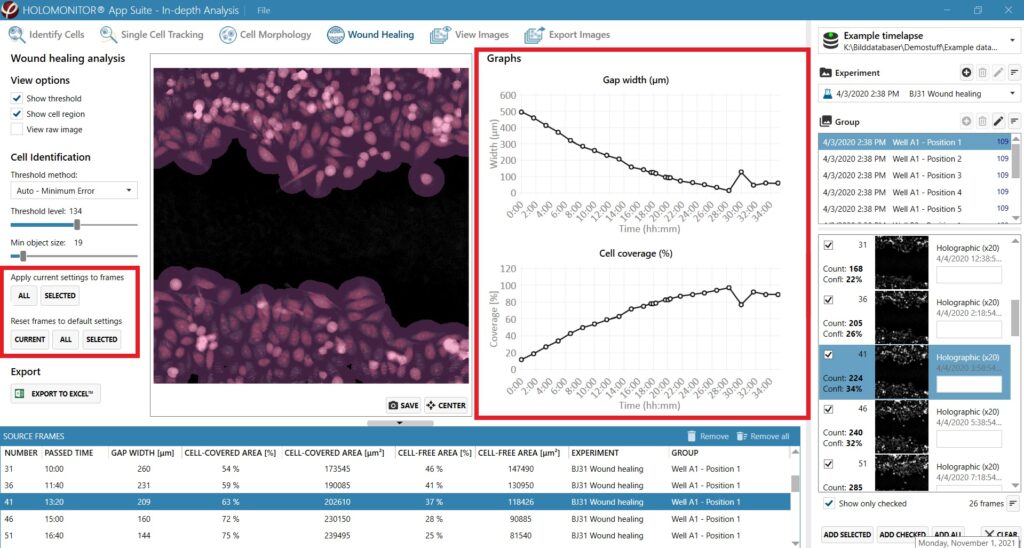 We heard you and the team said, "Let's do it!". Now the powerful App Suite 3.5 software will automatically provide you with graphs showing "gap width (µm)" and "coverage area (%)" to the wound healing analysis, both in the software and the Excel export. Besides, changing or reversing analysis settings is much easier. You can choose to apply the current identification settings to entire or selected frames, and vice versa.
Keep your color, styling, and filter settings unified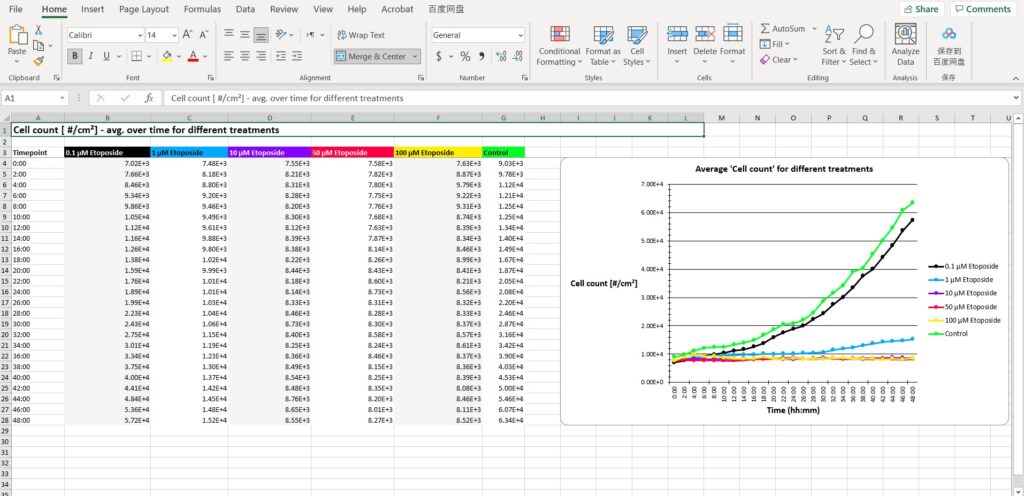 This feature is one of your requests! Now, from the experimental setup to your excel spreadsheet, all the treatments will have the same color, style, or filter that you set for unified data presentation. With the advanced results exportation function, data reanalysis just became easier and more visual.
You decide which frames to export, or not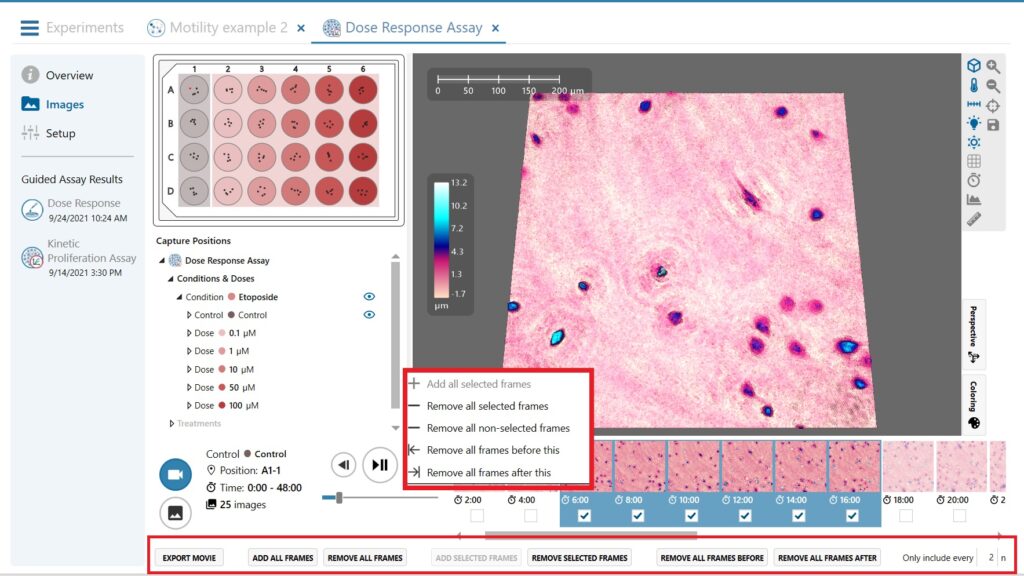 We all have experienced that sometimes exporting all time points is not necessary, and simply uses up our data storage space. Instead of exporting a whole movie, you can easily select the period of interest with the App Suite 3.5 software. It allows you to choose the frames or time points you want to export, and make every video customized to fit your purpose!
Direct export measurements from the Live View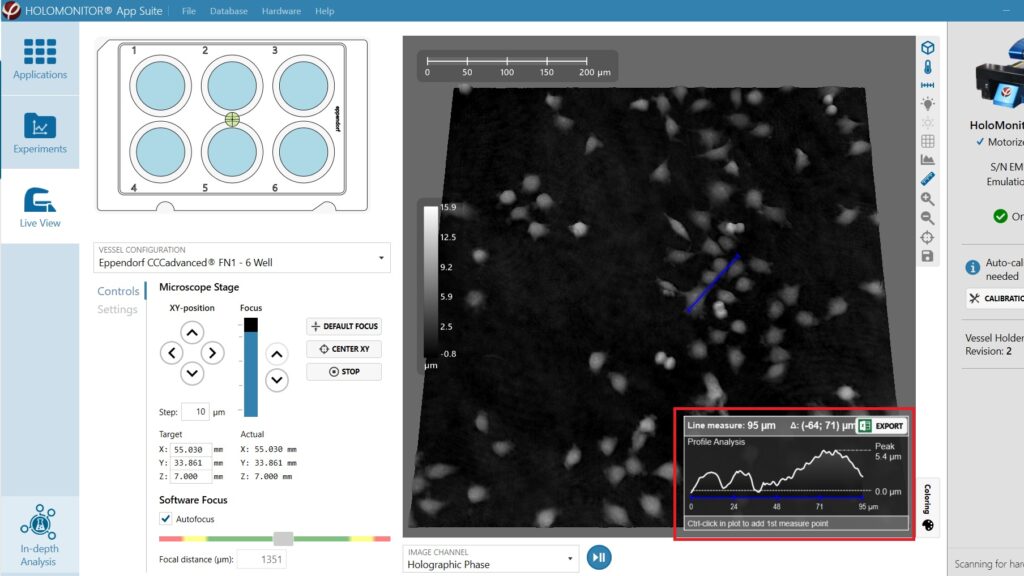 Did you capture some really nice measurement data while exploring the Live View? With App Suite 3.5, you have the possibility to export the measurement data right away to an Excel sheet for future analysis. The exported information includes the data and plot for both optical thickness (µm) and distance along the line (µm).
Do you use Hstudio?
Contact us or your local representative today for more information on how to upgrade from Hstudio to the latest version of App Suite, the current software for the HoloMonitor M4 system.
App Suite 3.5 new features
General
We have tested and confirmed that App Suite 3.5 is Windows 11 compatible.
We have made a major overhaul of how treatment colors are shown in all exports.
Also, we have added the possibility to move the stage to the stage removal position from App Suite.
In-Depth – Wound healing
The export has been upgraded to the xlsx-format including adding colors, styling and filters to all sheets.
Graphs showing 'Gap width (µm)' and 'Coverage area (%)' has been added both the Wound Healing app and the Excel export.
Analysis settings can now be applied to more than one frame at a time.
Default vessel pattern is changed to ibidi's vessel.
In-Depth – Cell Morphology
A major overhaul of the export has been made, including:

Upgrading the export to the xlsx-format including adding colors, styling and filters to all sheets.
Adding/removing/re-organizing data to make it more user-friendly.
In-Depth – Single Cell Tracking
Included/excluded status, color and cell family number of tracked cells is now saved with the analysis.
In-Depth – General
A slider to improve contrast in the images has been added to the Image view in Cell morphology, Wound healing and Identify Cells.
Live View
Improved Measurement Tool that displays x/y coordinates and has the possibility to export the measurement data to Excel.
Guided Assays
Perspective parameters are added to the Frame view in the Images tab.
Image analysis and Include/Exclude changes to any wells/position/frames now apply to all Controls that share the same well(s).
Image Viewer
We have added controls to only include a subset of frames when exporting video and images.
Do you have a feature request or user feedback?