The App Suite 4.0 software update: What's new? And the highlight you've all been waiting for!
Exciting times are here for all you amazing HoloMonitor users! Your feedback has driven us to new heights, and we're thrilled to release the HoloMonitor App Suite 4.0 software update. Besides some bug fixes to make things easier, we've introduced numerous enhancements to make your research smoother and more insightful.
However, the highlight you've all been waiting for is here — the App Suite integration of fluorescence capture and analysis using the HoloMonitor M4 add-on fluorescence unit.
Holography meets Fluorescence
Study your cells' fluorescence signal alongside
all the label-free holography data
What's new in App Suite 4.0?
Analyze your cells' Fluorescence signal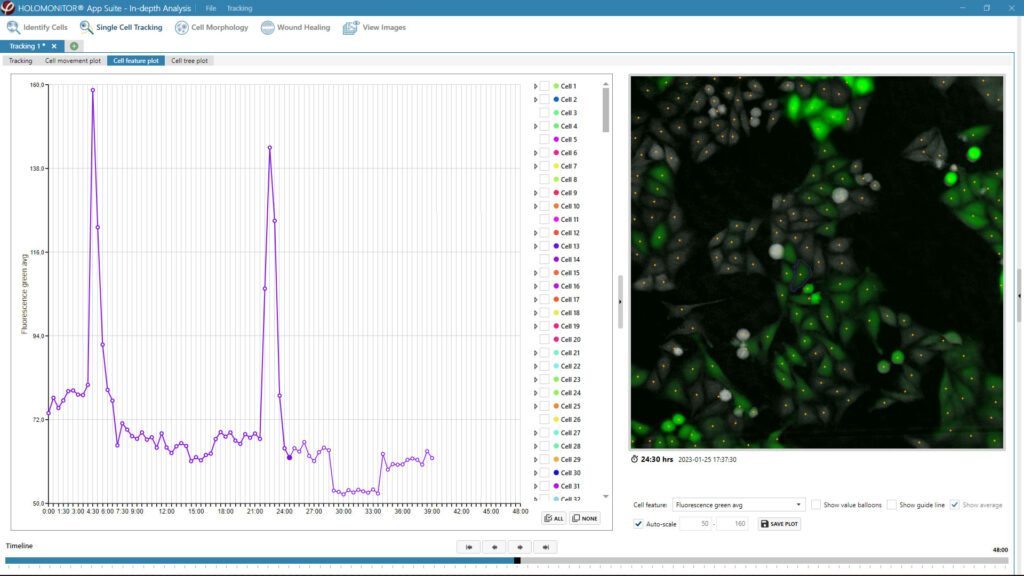 App Suite now supports fluorescence capture and analysis of the HoloMonitor M4 add-on fluorescence unit. This includes functionality for calibration and setting up experiments for capturing your cells both with holography and fluorescence imaging. In addition to all the label-free holography cell features, you can analyze your cells' fluorescence signal in Single Cell Tracking and the Cell Morphology Assay.
If you can't wait to dive into the new fluorescence capabilities through a live demo, don't hesitate to contact our team!
Experience enhanced Image Analysis in guided assays
Our latest software update brings advanced image analysis features right into the Guided assays, simplifying your experiment analysis.
The software automatically identifies cells from the background in all images, considering thickness, size, and morphology, first separating the cells from the background, splitting adjacent cells, and finally fine-tuning the result.
You can easily adjust cell identification sensitivity with the Sensitivity slider or delve into advanced adjustments with the new sliders for object size and threshold settings. Fine-tune settings for optimal cell identification and ensure accurate results for your experiments.
Explore Chemotaxis with the ibidi µ-slide vessel template
Our latest App Suite update introduces support for the ibidi Chemotaxis µ-Slide, unlocking new possibilities for your research. Using this vessel template in your HoloMonitor experiments, you can conduct precise chemotaxis assays with a wide range of cells, including fast or slow-migrating types, all while imaging directly inside the incubator.
Dive deeper with improved Data Export
App Suite 4.0 presents more data export capabilities. In the Cell Morphology Assay, you'll find a new CSV export along with the ability to export images, including full frames, individual cells, and mask images. You wished to have your region-specific frame data exported — Done!
Additionally, you can take advantage of 16-bit Tiff plain image exports and experience an improved movie export for effortless sharing of dynamic cell behaviors.
Do you use Hstudio?
Contact us or our local partner today for more information on upgrading from Hstudio to the latest version of App Suite, the current software for the HoloMonitor M4 system.
More new App Suite 4.0 features
Database handling
Added functionality for attempting to repair a database in some specific situations.
Added database validation warning to clarify for users what needs to be corrected.
Special characters are now handled when creating a new database.
Wound Healing
Wound Healing frames are now sorted correctly, leading to correct analyses no matter which order the frames were added.
Capture setup
Added Preview result button for quick access to analyses while capture is running.
New version of laser Calibration
The capture position coordinate system is now the same as when controlling the stage x, y and z positions.
Max no. batches have been increased from 10000 to 30000.
Experiments & results
The Experiments list can now be sorted and filtered by database.
The Experiments list now shows the full database path if hovering over the database name with the mouse.
In Images, all frames are now shown in 2D and without lighting effects by default.
In Images, it is now possible to automatically loop the timelapse playback.
Experiment info in the Results list and Experiment overview can now be copied to the clipboard.
An experiment that has been manually paused will now have a small note about that in the Experiment description.
The handling of missing custom vessel maps has been improved.
Identify cells
The object size minimum value changed from 8 to 3 to allow for analyzing smaller objects.
Single cell tracking
Some fixes to the Cell tree in Excel export.
Live View
Added possibility to mirror the camera channel image.
The camera channel is now always mirrored to fit the holographic channel.
The measurement tool now works for all channels.
New hardware tool
The Stage Calibration tool has turned into a more general Hardware Tool and has received a new graphical look as well as more sections and functionality for hardware diagnosis, service, and calibration. However, the only functionality relevant and fully accessible to most users is still Stage Calibration.
General
The Hardware pane now shows the serial numbers for both M4, stage and fluorescence unit for the connected instrument.
All wells are now sorted correctly, that is alpha-numerically.
The App Suite diagnostics log contains even more information for diagnosis.
We now display the estimated time left for some operations that might take a long time.
Minor improvements to the user interface and experience throughout App Suite.
Several bug fixes.
Do you have a feature request or user feedback?