Kinetic Cell Proliferation Assay
Your robotic and real-time kinetic cell proliferation assay
HoloMonitor® Kinetic Cell Proliferation Assay is designed for automated and detailed proliferation analysis of adherent cells. At each time point, individual cells are automatically identified and counted by the software. In addition, cell confluence is also assessed simultaneously. Therefore, cell proliferation is directly and continuously determined in real-time inside your incubator.
Benefits
Why choose the HoloMonitor Kinetic Proliferation Assay?
Non-invasive.
Label-free, no washing, no fixing or lysing.
Robotic system.
Compare growth at single-cell level robustly.
Real-time
quantitative.
Direct cell count with cell confluence and cell volume data.
High temporal
resolution.
Fast acquisition rate and no downtime between images.
HoloMonitor Kinetic Cell Proliferation Assay
This is a software license valid for installation on 2 PCs. Additional licenses can be purchased at 50% of the original cost. The hardware is sold separately.

Assay Output
What results do you get with the cell proliferation assay?
The label-free HoloMonitor proliferation assay is compatible with various culture vessels. Moreover, it conveniently records non-invasive quantitative time-lapse images of multiple cell cultures directly inside your incubator. The software will provide you with the end data at user-selected intervals:
Real-time growth curves with or without normalization by

Cell count (cells/cm2)
Confluence (%)

Cell images and time-lapse videos.
---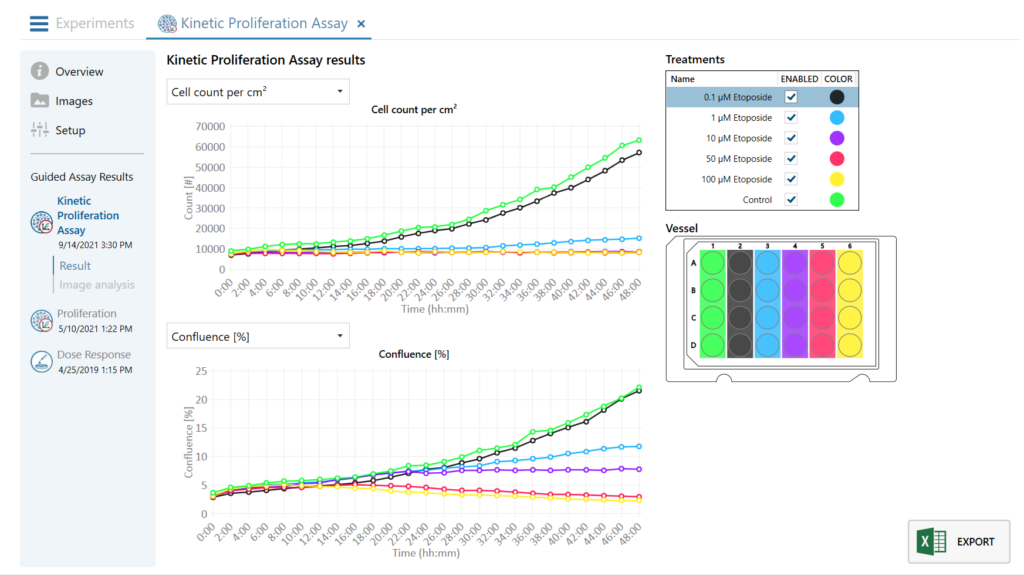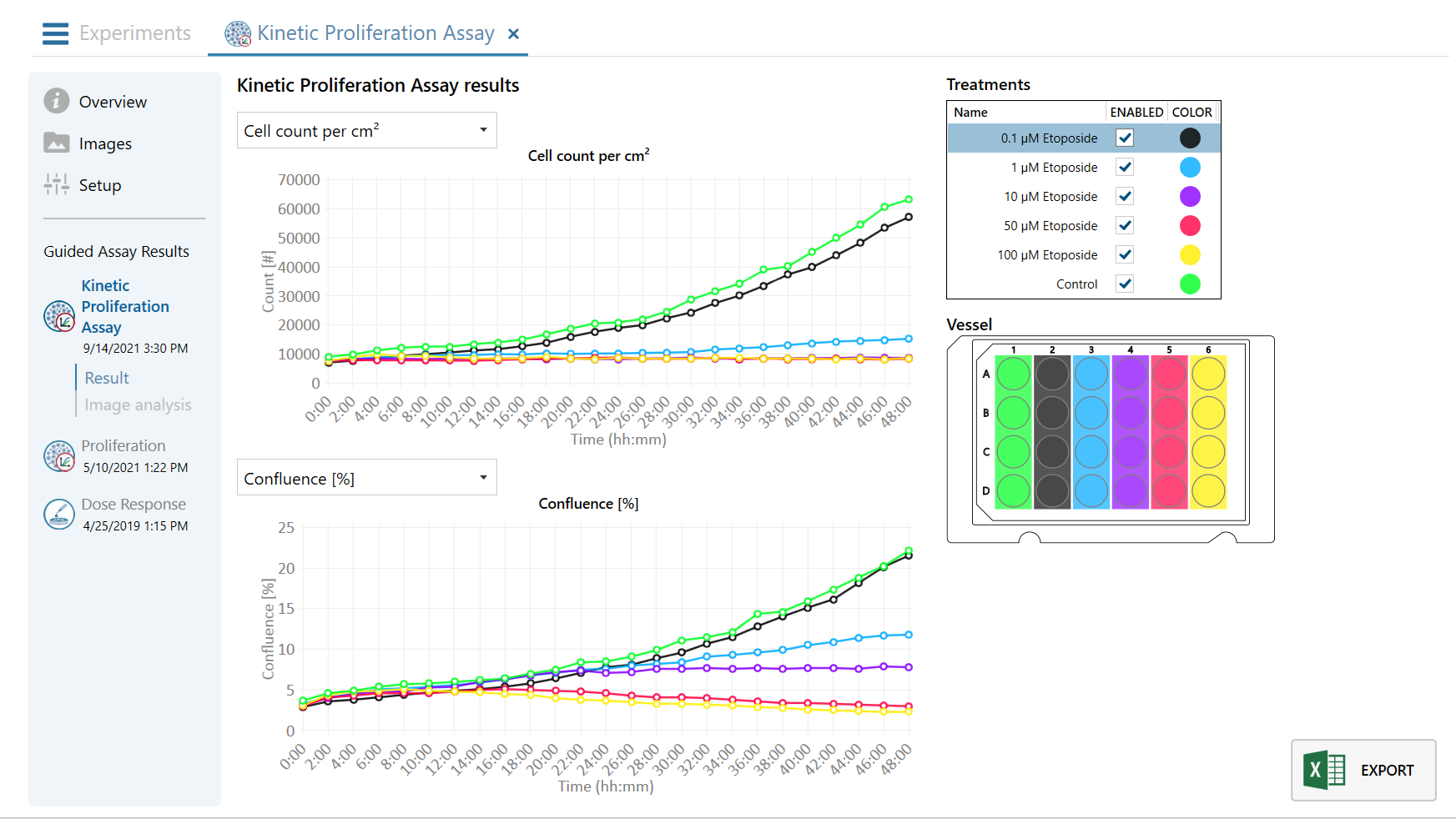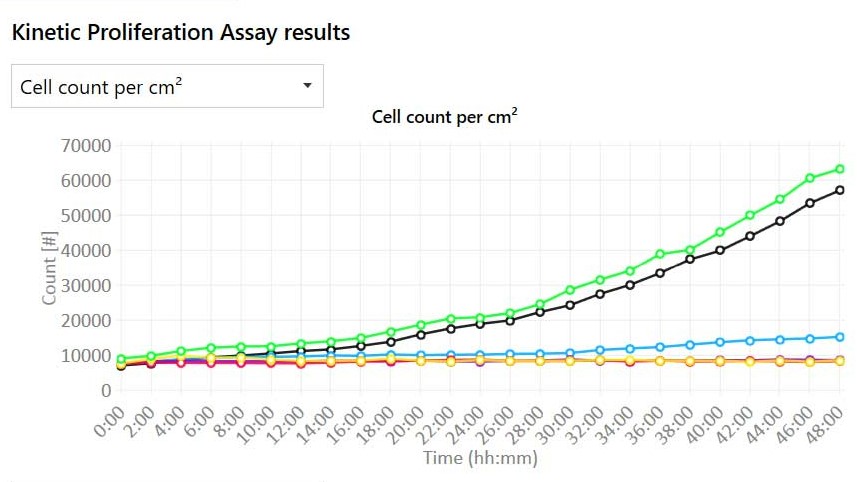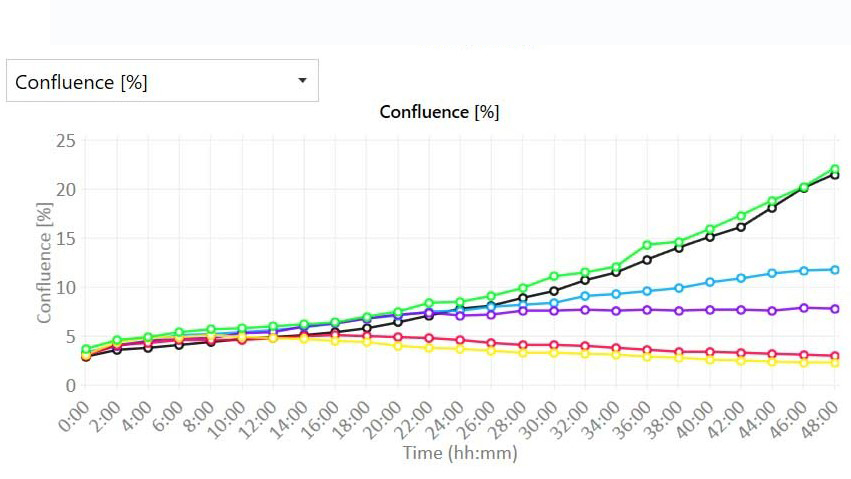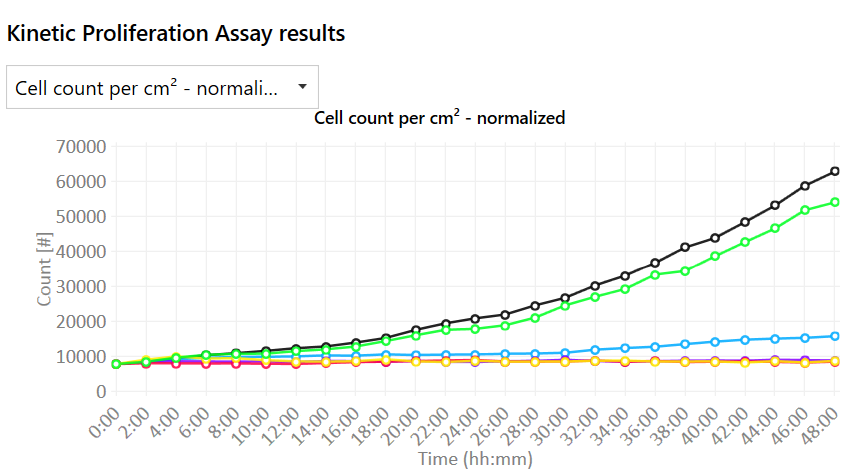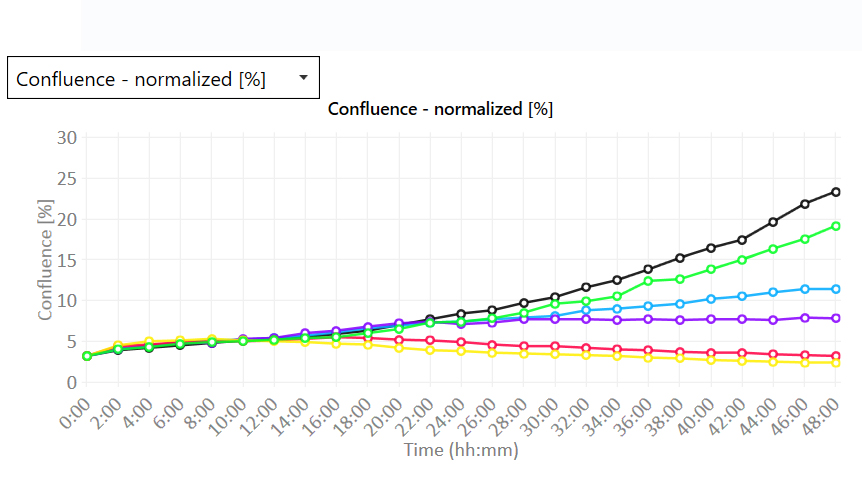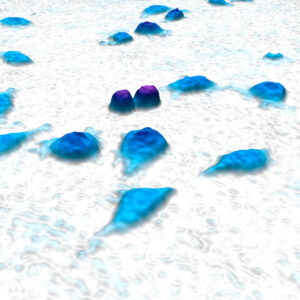 Non-invasive.
Study your cells non-invasively in your incubator
The kinetic cell proliferation assay uses digital holography to image cells and gives real-time growth curves by direct measuring cell count and confluency. Therefore, leave your precious cell untouched, and you can re-use the same cells for further analysis. Moreover, the assay allows you to study cell proliferation on population and single-cell levels simultaneously. This ensures your drug potency and cytotoxicity studies are more biologically relevant.
Key Applications
What can you study with HoloMonitor Cell Proliferation Assay?
Cell viability studies
Cell death studies
Cytotoxicity studies
Cell cycle studies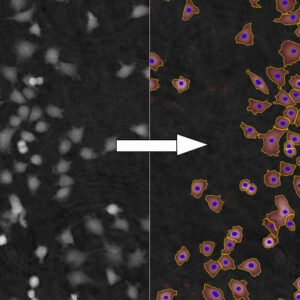 Robotic system.
A simple, robust system eliminates your learning curve
The robotic system with HoloMonitor enables automated and precise individual cell identification. The powerful App Suite software will guide you through the setup and allow you to incorporate HoloMonitor easily into your workflow. In addition, the powerful software will automatically generate growth curves by cell count and cell confluence in real-time.
Cell Proliferation Assay Protocol
What results do you get with the HoloMonitor Cell Proliferation Assay?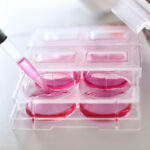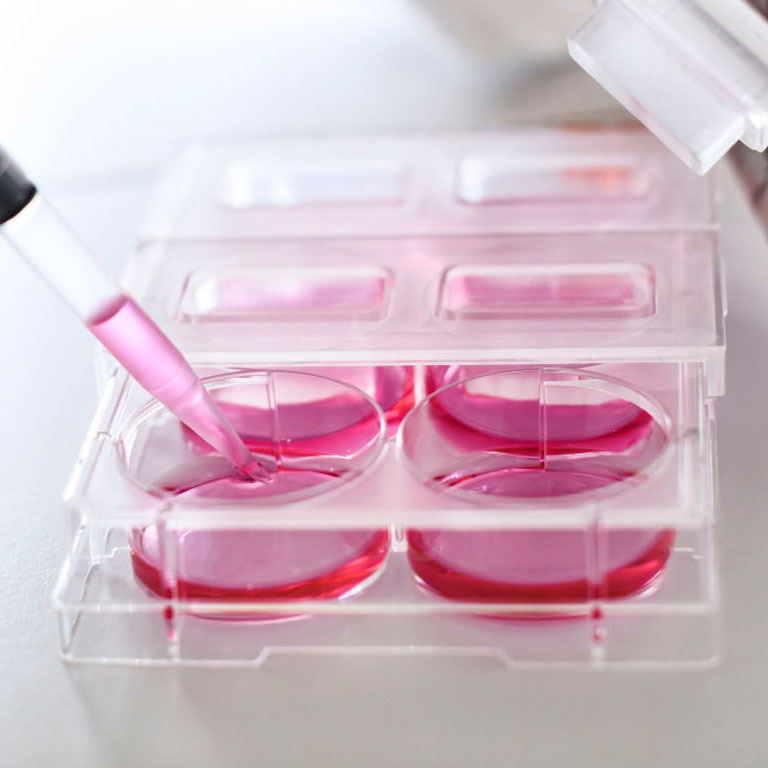 1. Sample preparation
Seed unlabeled adherent cells in your standard cell culture vessel.
Use HoloLids for best image quality and data acquisition.
Then, place the cell culture vessel in the incubator onto the HoloMonitor motorized stage.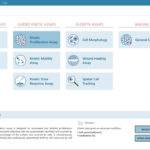 2. Assay setup
Select the HoloMonitor Cell Proliferation Assay in the software. Next, name your experiment and define treatments.
Then selecting wells, imaging positions, duration, and interval. Start imaging and walk away!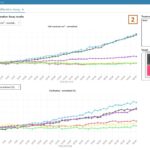 3. Explore results
Get real-time cell growth curve by cell count and confluence. Analyze the experiment with other live cell assays for further studies.
Export the raw data for further analysis. Re-use the cells for other experiments!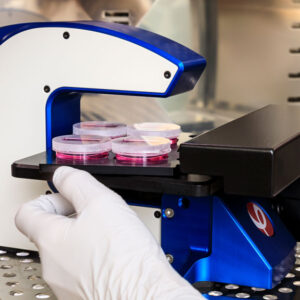 Real-time quantitative.
Quantitative and qualitative time-lapse image
Unlike other traditional cell proliferation assays which only give end-point data, our assay can measure kinetic cellular characteristics at multiple time points in real-time. Hence, it allows you to compare the temporal effects of multiple treatments and/or conditions simultaneously. Moreover, you can re-analyze the same experiment with the cell morphology and cell motility assay to generate new results without setting up new experiments.
Study cell growth over time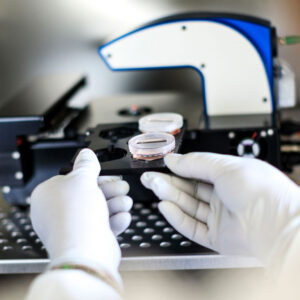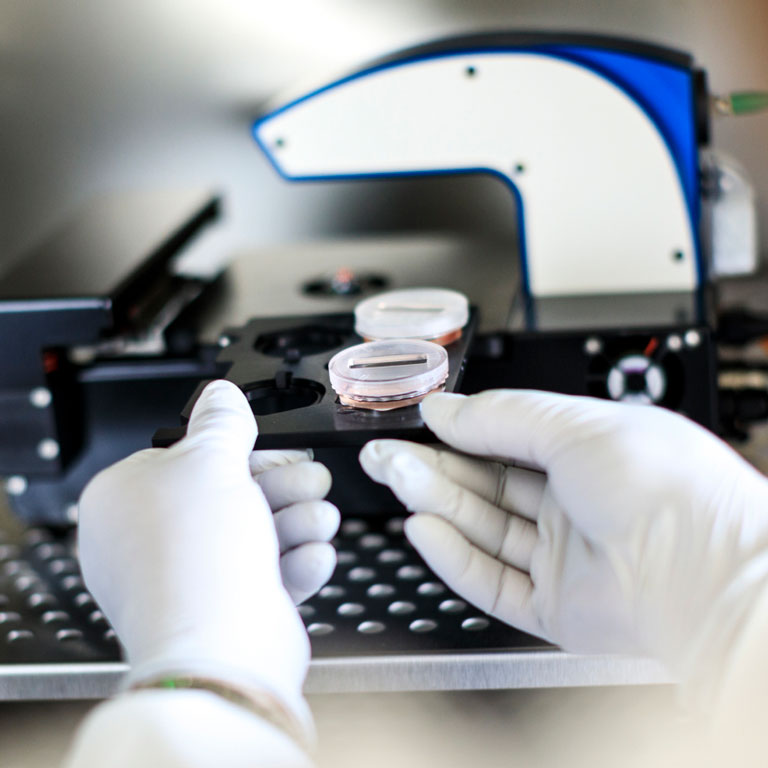 High temporal resolution.
Never miss any cellular event caused by downtime
Compare to other imaging methods, HoloMonitor using a low power density laser light to monitor your precious cells. Therefore you can study photo-sensitized living cells without any phototoxic effects. You can also capture images in multiple wells continuously without any operator intervention. In addition, HoloMonitor can count and analyze cells 20–50 times more frequently than traditional methods, so you will never miss any cellular event caused by downtime.
Cell Proliferation Assay FAQ
Why measure cell proliferation using HoloMonitor?
The HoloMonitor kinetic proliferation assay is non-invasive and needs no staining or labeling. Moreover, the analyses are performed on adherent cells in standard cell culture vessels, making trypsinization redundant. Thus, you can use the same sample throughout the experiment, substantially reducing the number of samples needed.
Why are conventional proliferation assays less reliable?
In general, there are many methods to measure cell proliferation. However, the standard methods that aim to measure cell numbers, e.g., MTT, XTT, or AlamarBlue cell proliferation assays, are indirect. Generally, they are based on cell metabolism and measure different metabolic end products. Ideally, the more end product, the more cells there are. Therefore, these biochemical methods will give incorrect results when the tested substances cause increased metabolism or cell size.
OK, but what about assays based on direct cell counting?
First of all, both indirect and direct assays based on cell counting are destructive end-point methods, where the cells are not useable after the measurement. The methods, therefore, rely on multiple parallel samples to create a growth curve. If the parallel samples are not identical at the starting point; as a result, a slight difference in seeding numbers may lead to major differences after some time.
What proliferation measurements are provided by the assay?
The assay provides real-time growth curves by cell count and cell confluence at user-selected intervals.
Can I reuse the recorded data to analyze additional cellular properties?
Certainly, as the HoloMonitor live cell imager assesses cell culture growth non-invasively and does not require assay-specific sample preparation, you can reuse the recorded time-lapse image sequence to determine other cellular characteristics associated with potency and cytotoxicity. Using, for example, the HoloMonitor Cell Morphology, Cell Motility, and the Dose-Response Assay allow you to get new results without requiring additional experiments precious cells, and lab hours.
Can I reuse the sample for additional experiments using complementary instrumentation?
Yes, as growth assessment is done non-invasively and without assay-specific sample preparation, you can certainly use the same sample in further downstream experiments.
Does this mean that I can use the proliferation assay for cell QC as well?
Absolutely, since the results are displayed in real-time, you can use the cell proliferation assay to grow a cell culture to a specific cell density. Besides the proliferation assay, we also offer a specific Cell QC assay.

Featured Publications
Browse our publication library for more references and see how our worldwide HoloMonitor users run their cell proliferation analysis.