When tumors metastasize cancer cells travel through the body to reach a new location where another tumor can develop. Understanding of how different treatment options affect cell motility and migration is thus essential when exploring the effects of new treatment options in the fight against cancer.
In recent years several publications have reported on the use of HoloMonitor® M4 to map cell movements. Now, two new peer-reviewed articles have been published showing how HoloMonitor was used to explore changes in cell motility and migration induced by new potential treatment regimens for severe types of brain cancer.
In ITGA2 as a potential nanotherapeutic target for glioblastoma, Scientific Reports, April 2019, P. Guo and coworkers at Boston Children´s Hospital at Harvard Medical School in the US, report on a cell surface antigen, ITGA2, that is highly expressed on human glioblastoma cells. The researchers have identified and evaluated this antigen as a drug target for glioblastoma, a very aggressive and incurable type of brain cancer. Their evaluation includes results using HoloMonitor to show that ITGA2 significantly reduces the speed of human glioblastoma cells. At the same time cell migration, i.e. the distance cells travelled decreased.
The authors conclude that:
"These findings may have significant clinical potential for GBM therapy and diagnosis and support further research into the use of ITGA2 as therapeutic target for GBM".
In another publication The long noncoding RNA TP73‐AS1 promotes tumorigenicity of medulloblastoma cells, J Int. cancer, May 2019, M Varon et al, focused their research on medulloblastoma; the most common malignant brain cancer in children. Functionality and role of a long noncoding RNA, TP73-AS1, were explored. The authors employed HoloMonitor to evaluate TP73-AS1 effect on cell motility and showed that it promotes migration of human medulloblastoma cells:
"Using the HoloMonitor M4 cell tracking software to record the trajectories of TP73-AS1 kd and control DAOY cells, we found differences in the movement patterns of the kd cells compared to the controls. Note, using live imaging, we excluded dividing or dying cells from the analysis".
In both studies the HoloMonitor cell tracking module was used to analyse motility and migration of human brain cancer cells. Read more about HoloMonitor cell motility and migration assays here.
About HoloMonitor
HoloMonitor is an all-in-one solution for label-free live cell imaging and analysis, designed for all cell biologists. The system is affordable, convenient and fits into the cell incubator. Kinetic live cells studies are easily set up without the need for any labels, stains, complicated additional software, or devices.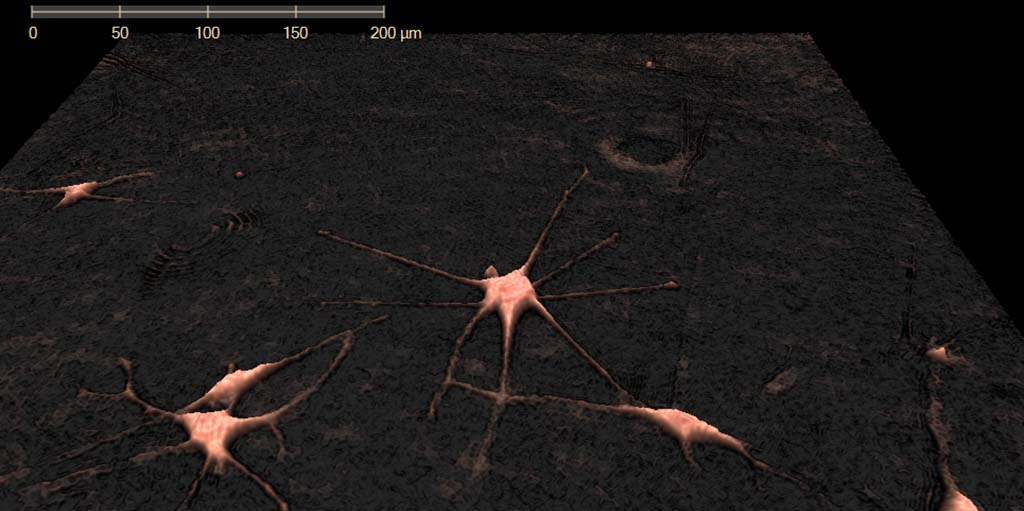 Melanoma, the most dangerous form of skin cancer, is increasing. In the US, melanoma is one of the most common cancers among young adults. However, if the disease is caught early, then it can be cured. A research team, led by Dr Robert Judson-Torres, is tracking single cells when studying melanoma at an early stage.
Tests on animals are routinely used in many research areas, including pre-clinical drug development and testing of chemicals and cosmetics. Today, there is a growing interest in developing alternatives to research methods that involves living animals, and also to replace animal derived components used in different kind of products.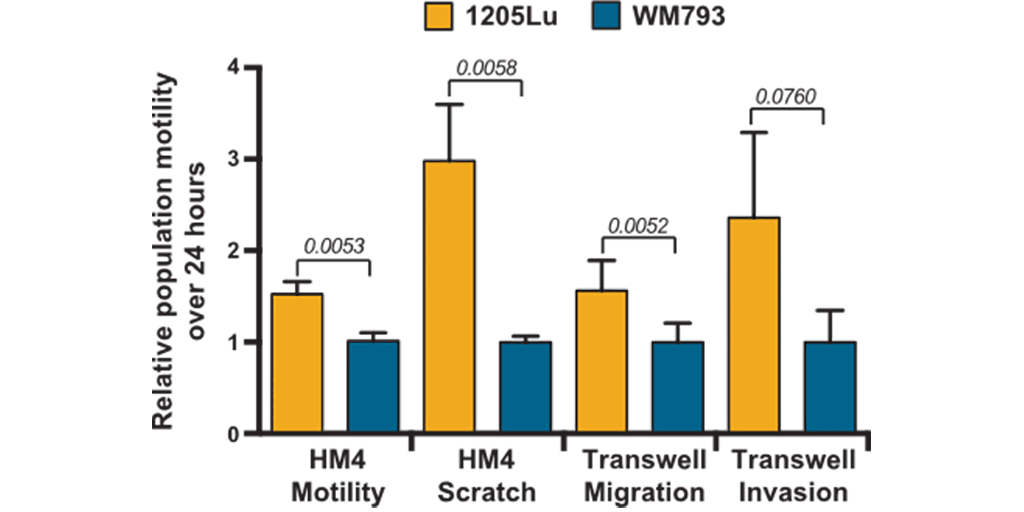 Understanding of cell movements is essential in many aspects of cell biology research, and crucial not least in cancer research.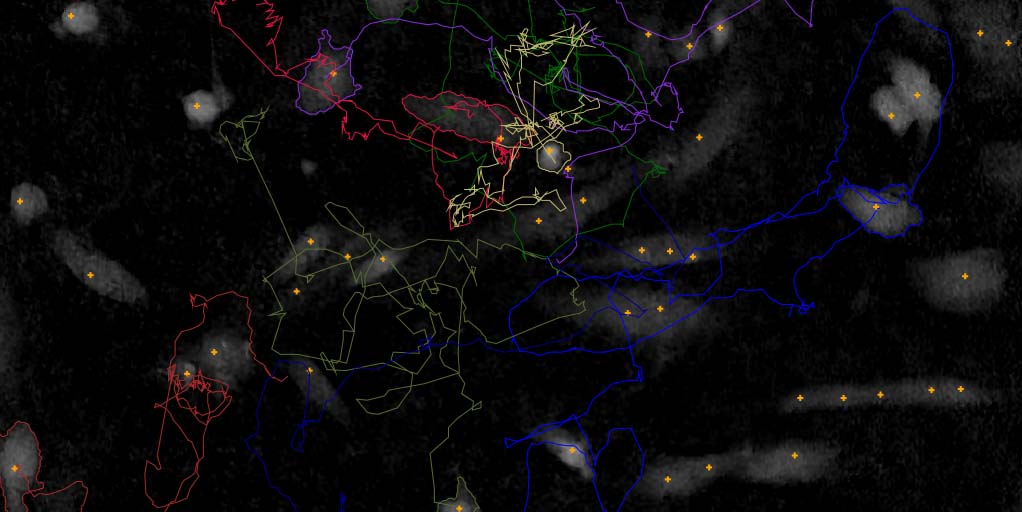 Digital holographic imaging is a label-free, non-toxic quantitative method that can be used for single cell analysis for a long time period. Sofia Kamlund, PhD, Lund University and Phase Holographic Imaging, has used this method in her thesis Not all those who wander are lost – A Study of Cancer Cells by Digital Holographic Imaging, Fluorescence and a combination there of. The technique allows the researcher to follow changes over time and evaluate cell response on living cells.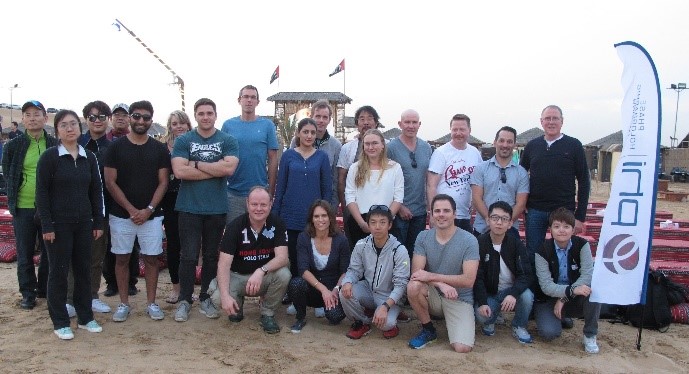 After two days of product training and education, knowledge sharing, positive discussions and success stories, we are happy to conclude that PHI´s first distributor meeting was a success. The meeting was held in Dubai November 26-27, on the topic A Change of Measure, and included everything from the introduction of new HoloMonitor development to inspiring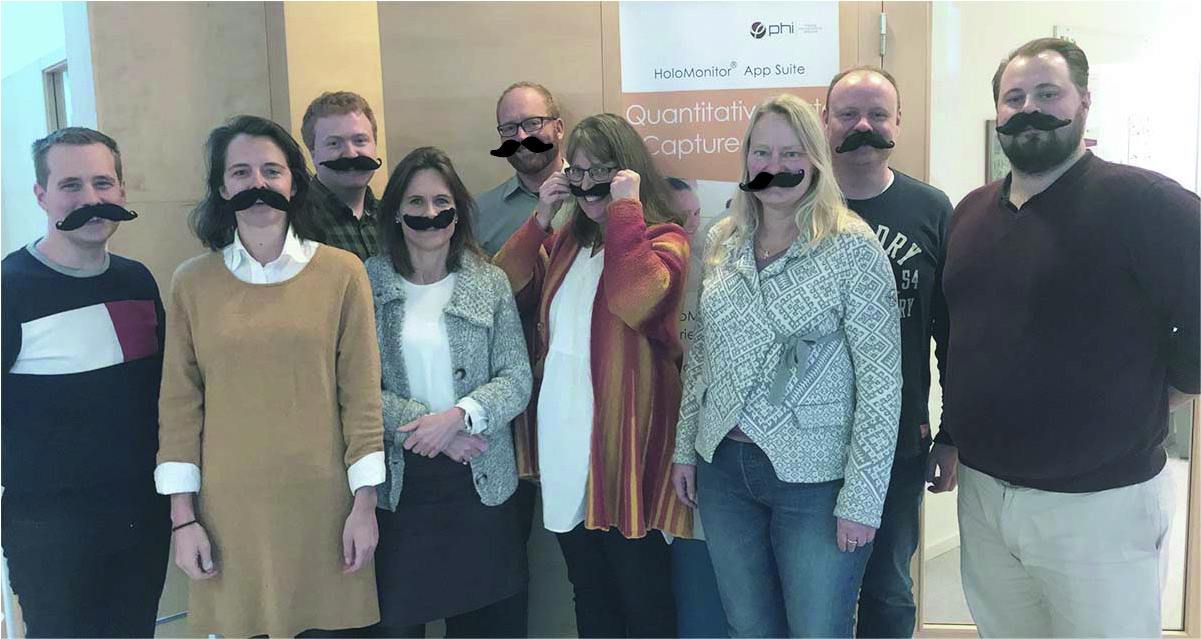 Globally, prostate cancer is the second most commonly occurring cancer in men and the fourth most commonly occurring cancer overall. This video shows Etoposide treated DU 145 prostate cancer cells undergoing programed cell death, apoptosis.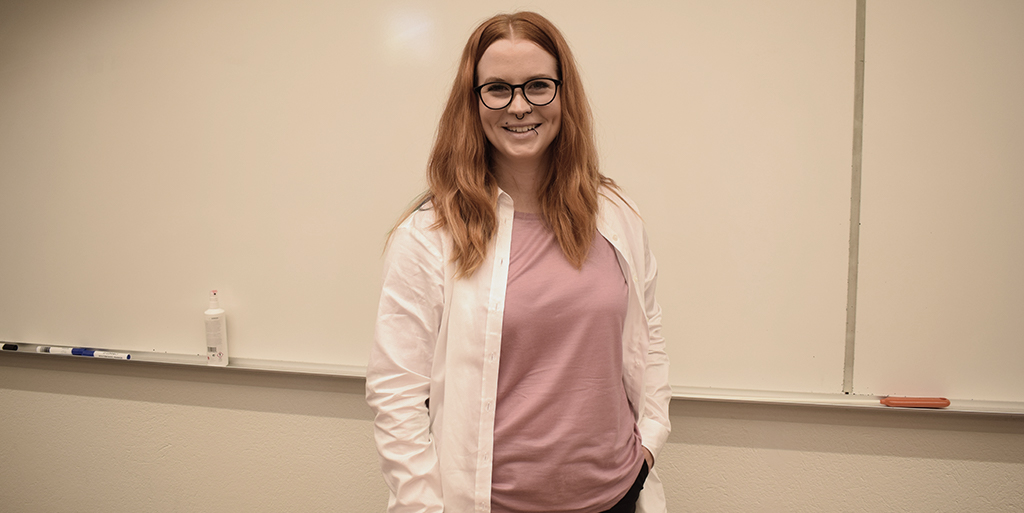 Sofia Kamlund has studied Cell Division and Cell Movement using Digital Holographic Microscopy. Her research presents new ways of analyzing individual cells by using Holographic Microscopy alone or in combination with Fluorescence Microscopy.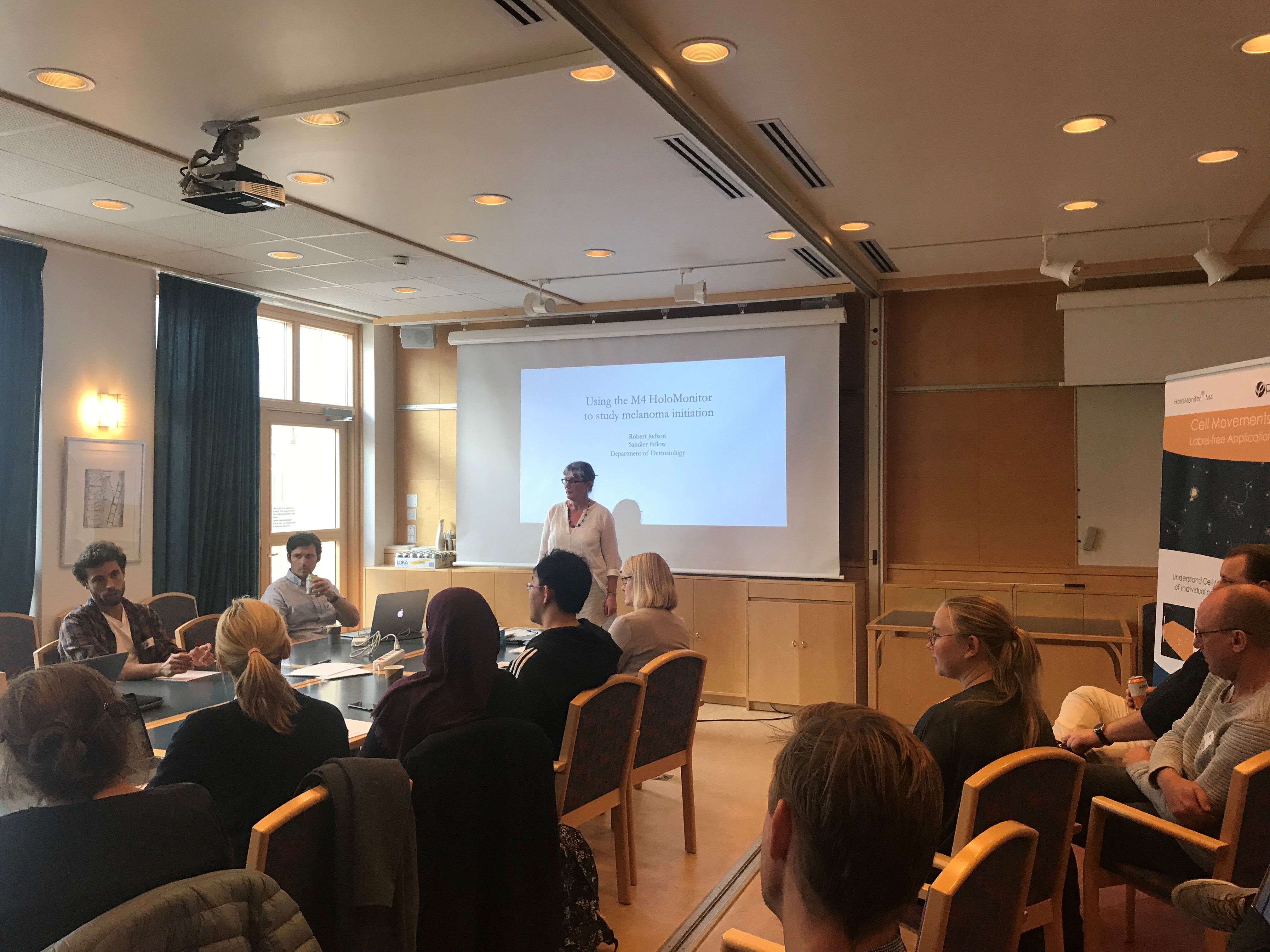 PHI had a successful Holomonitor User Meeting where we discussed how to use HoloMonitor with focus on cancer research. The presentations showed new methods within cancer research and cell biology.

PHI's Industrial Doctoral Student Louise Stenbaeck received a prize from Danish Cancer Society  for her poster "Holographic microscopy: Macrophage-uptake of SA-MIPs".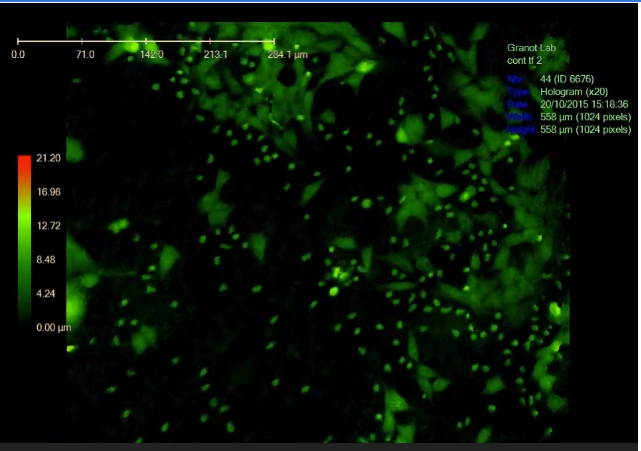 Cancer kills millions of people every year and is one of humanity's greatest health challenges. In recent years, immune cells were shown to play critical roles in tumor growth and metastatic progression. The environment where tumor cells live consists of a wide range of cell types, among them immune cells. Even though the power is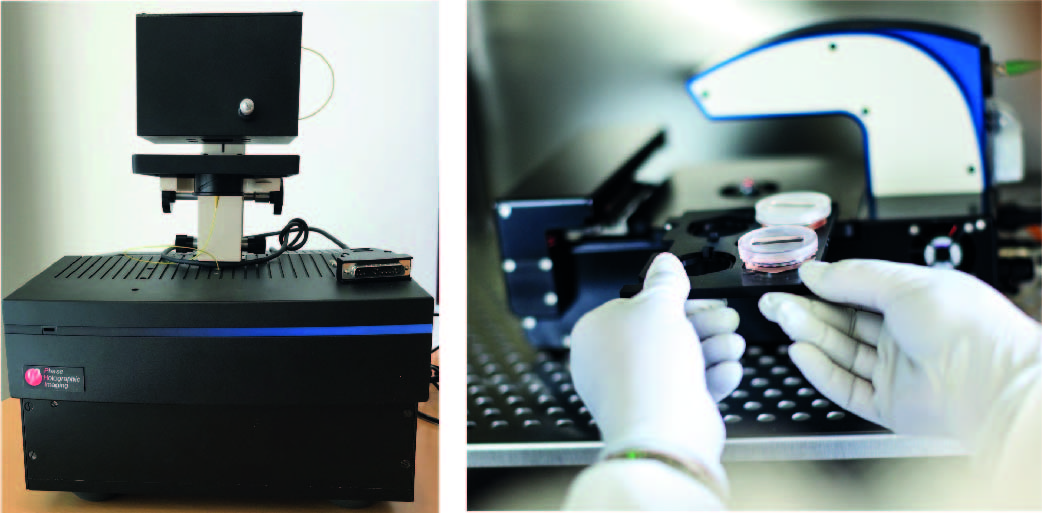 "In the near future", Zahra El-Schich says, "you could have a HoloMonitor in every clinic. You could also customize cancer treatment for every patient by just using a simple tumor test." Find out how.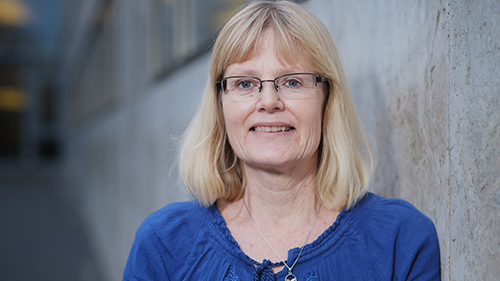 Using nanoparticles and HoloMonitor technology Prof. Anette Gjörloff Wingren and her team aim to develop an early screening method that detects cancer by a simple blood test.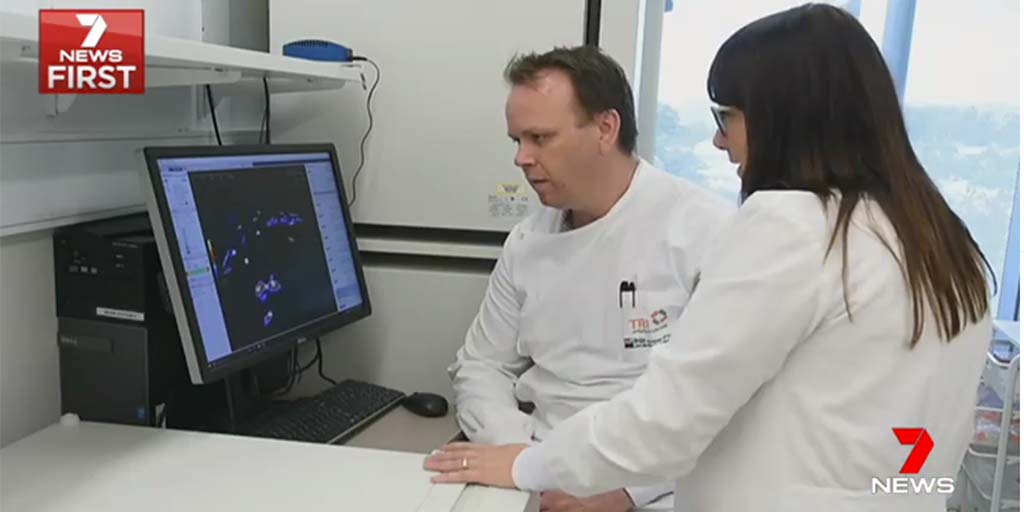 We believe we've found the Holy Grail" Associate Professor Derek Richard, at Queensland University of Technology in Australia, has, with help from HoloMonitor M4, found a way to turn back time and make old cells young again.
Dr Garay Tamás' research focuses on cell migration and proliferation in cancer cells. HoloMonitor M4, with it's potential to track cell events in a cell friendly environment inside the incubator will, hopefully, be a helpful tool for Dr Garay Tamas in his future research.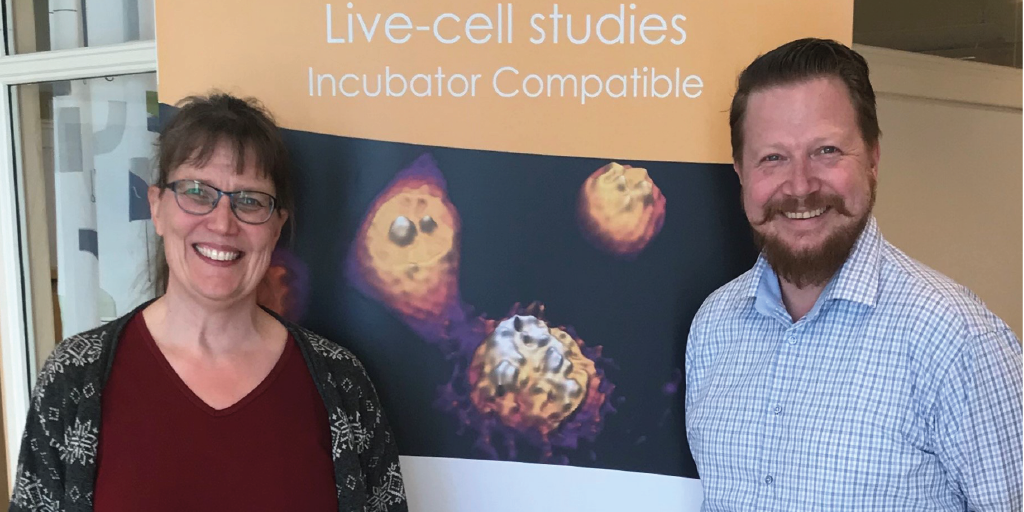 Phase Holographic Imaging | AACR 2018 Be among the first to see a walk-through of the HoloMonitor App Suite – a new proprietary software for analysis of images and data, especially developed for cell biological applications. Meet us for a demo – visit our booth #1740.